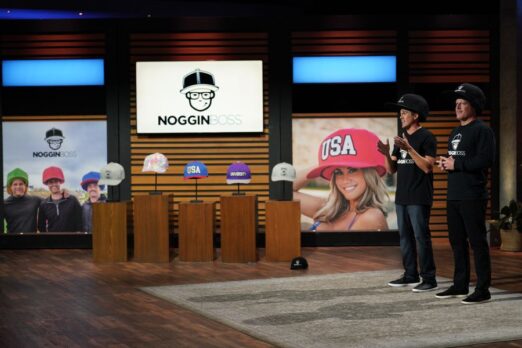 Gabe Cooper and Sean Starner hope a Shark invests in Noggin Boss, their custom oversized hat business, in Shark Tank episode 1317. The guys are friends, business owners and former collegiate athletes. They wanted to partner up with their whimsical product to create "something fun and innovative to help you promote the things you love and are passionate about." The result was the endearing giant hats.
The company was founded in early 2020 and they launched the hats at the Waste Management Phoenix Open that February. The Phoenix Open is known for encouraging raucous fan behavior on the 16th hole. Cheering, heckling and otherwise un-golf like fan behavior is a staple of that hole. They even built a stadium around it. Their hats were well received, but a month later, the world shut down due to the global Covid-19 pandemic. No sporting events meant no way to showcase their wares. They were even scheduled to go to a Shark Tank casting call.
In 2021, the Arizona Cardinals ordered a bunch of hats with their logo to take to the NFL draft. The company now has a license with the Cardinals and the Phoenix Suns of the NBA. Currently on their website, you can order hats with your own logo for $65 – they aren't offering licensed hats at this time. Besides promotional products, licensing is the real play here for this company, that's probably why they're in the Tank.
Company Information
Video

Posts about Noggin Boss on Shark Tank Blog
Noggin Boss Shark Tank Recap
Gabe and Sean enter the Shark Tank seeking $50,000 for 25% equity in their company. They pitch about their passion for sports. Next, they whip out their Noggin Bosses and hand them out to the Sharks. They explain how fans love them on social media.
The company has sold $30,000 in four months. They explain how the Covid-19 pandemic interrupted their launch. During that time, they called promotional companies and licensing opportunities. They are in the Shark Tank to help navigate the licensing world. Hats cost $20 landed and they retail for $65. They got the idea when Gabe made an oversized hat at a charity golf tournament. There was such a positive response, the guys knew they had to do it.
They explain they haven't gotten through to licensing entities. They got 20 hats into an NBA game and got a meeting with the NBA. Manufacturing logistics allow them to make the embroidery in the USA. It's not patented, but they have speed to market. Mark says they can sub-license it to a hat manufacturer that already has sports license agreements.
Daymond offers $50,000 for 30%. Mark says if they do the deal with Daymond, he'll license the Mavs logo and do a sales test in his stadium. Lori goes out.  Daymond presses them to take his offer and they take it.
Noggin Boss Shark Tank Update
The Shark Tank Blog constantly provides updates and follow-ups about entrepreneurs who have appeared on the Shark Tank TV show. The first rerun of this episode in July, 2022, is only four months after the original air date. As of December, 2022, the deal with Daymond has not closed. At this time, no licensing deals are in place either. The Shark Tank Blog will follow-up on Noggin Boss & Gabe Cooper and Sean Starner  as more details become available.