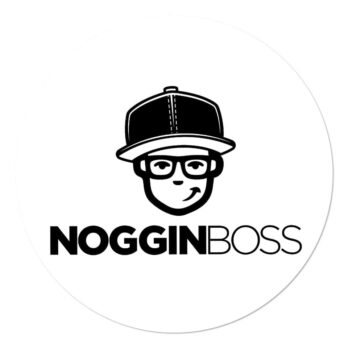 Gabe Cooper and Sean Starner want NogginBoss to be the "next foam finger" at sporting events everywhere. Both men run other businesses, but they've been friends for years. As ex college athletes and coaches, they enjoy sports. They came up with the idea for NogginBoss as a fun way to promote things. The product is an almost ridiculously oversized baseball cap. On the company website, you upload text and/or a logo and for $65 they'll ship one to you.
They guys had a rough start in this venture. They introduced the public to their hats at the Phoenix Open in February, 2020. A month later, sports completely shut down due to the Covid-19 pandemic. With no venues open, there was no way to promote the product.
They did manage to get a licensing deal with the Arizona Cardinals and Phoenix Suns, but other than that, they sell them as advertising specialties and one offs for online consumers. Licensing is where the future is for this business, hence the reference to the foam finger. Imagine these hats with your favorite pro or college sports team on them. Everyone would want one. The guys are hoping a Shark can help them with that.
My Take on NogginBoss
This is a fun product. They look a bit silly, but that's part of the appeal. I'd get a Red Sox hat if they ever make them. I'm not sure if I'd want to be sitting behind someone wearing one at a game, but I'd get one nonetheless. I'm in.
Will Sharks Wear These Caps?
This is a novelty product to be sure, but the Sharks have invested in novelties in the past. It falls into what Kevin calls his "rubber chicken portfolio." Barbara usually doesn't go for things like this, so I think she's out. The same goes for Lori. That leaves the male Sharks.
Mark could help with sports licensing, he's done it before with Gameday Couture. Daymond is big into licensing too. Mr. Wonderful could also handle it. I think we'll see bids from all three of these Sharks.