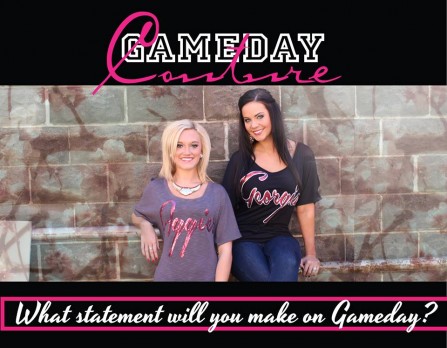 Kurt and Shawnna Fedderson pitch Gameday Couture, a line of college licensed fashions for the female fan, in episode 613. The Feddersons describe Gameday Couture as "classic and traditional women's fashion with a contemporary twist." Shawnna was frustrated by the lack of women's fan apparel, so she created the Gameday Couture fashions to fill the void.
They currently license over thirty college teams (mostly big-time football schools) and they are actively seeking more college licenses every day. They work with the schools when designing their fashions to assure the school's brand is positively and accurately reflected in their clothing. The designs range from bedazzled tees to scarfs to sweaters and more. The clothing isn't just team jerseys in pink!
Gameday Couture also does private labeling for high schools and smaller colleges on a case by case basis. They say they'd like to pursue professional sports licenses for their line, which would certainly ramp up their sales quickly. They are likely looking for a Shark to help them navigate licensing and for cash to fund production.
Can Gameday Couture fashion a deal with a Shark?
Gameday Couture Shark Tank Recap
Kurt and Shawnna enter with an entourage seeking $500K for 20% of their business. They explain their product and how they've had regional success. The models hand out samples as they explain their growth from three-quarter of a million to $1.25 million in three years.
Robert compares their business to Tipsy Elves. Lori likes the product and their price point. Kevin questions their valuation and Kurt explains they've invested profits in licensing; he thinks he could duplicate the business. He says they're worth $750K, he's out.
Daymond explains he's tried the concept and ate a lot of inventory – he's out. Daymond thinks the business is worth $1.5 million. Robert wants them to run a little faster and he goes out. Mark wants to know about their online sales. He thinks they should have gone big online sooner. Daymond concurs. Mark offers $500K for 30% with a "mystery caveat." He wants an answer right away. They agree. Mark wants them to design licensed Mavericks clothing for his number one fan: HIS WIFE. Shawnna says she already has a design!
RESULT: DEAL with Mark for $500K for 30%
Gameday Couture Shark Tank Update
The Shark Tank Blog constantly provides updates and follow-ups about entrepreneurs who have appeared on the Shark Tank TV show. The deal with Mark closed. It opened some new doors for the company. Gameday Couture has an update segment in episode 728. In the segment, they reveal they will hit $1 million in sales. By 2018, they had $12 million in total sales.
In 2020, the company launched Social House, their own unlicensed clothing line. That same year, they entered into a licensing deal with the NBA and now have merchandise for all their teams in addition to the over 1500 college licenses. You can find their products in Dick's Sporting Goods and many other retail outlets.
In September, 2021, the company partnered with ABC's The Bachelor to provide apparel for "contestant" Madison Prewett. As of May, 2022, the company is still in business and does over $5 million in annual revenue.
Posts About Gameday Couture on Shark Tank Blog
Company Information
Video