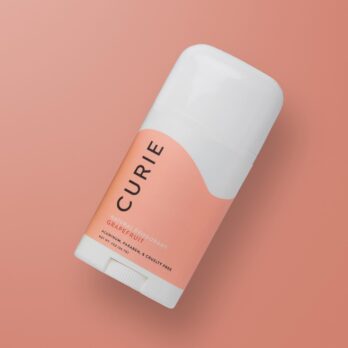 Sarah Moret created Curie deodorant because she didn't want to use products with aluminum and other chemicals in it. She didn't like the results because, as she says on her website. "I smelled bad." An accountant by profession, she took $12,000 and started making all natural deodorant. That quickly morphed into a complete line of personal care products that includes deodorant, Hydrating Hand Sanitizer, Body Oil, Body Wash and candles.
Besides being aluminum free, the scents are a big part of the business. You can order any Curie products with a variety of scents like grapefruit or orange and more. Because the products work so well, they developed a big social following revolving around armpits. They even have a Detox Clay Mask for your pits. It removes aluminum residue from "regular" deodorant.
The company was also featured in The New York Times, Glamour, Shape and many other media outlets. Originally started as a side hustle, she grew so fast that she now has four employees and is looking to hire more. It is very much a full time endeavor for her now. She's actually amazed at her own success. She's in the Shark Tank for episode 1317 and she's looking for a Shark to help her get to the next level.
My Take on Curie Deodorant
I'd like to try this stuff. I'm of the same mindset as Sarah. If it's all natural, I want to use it. While the brand has a feminine effect, I think she should create a men's line. I'd still use it as it is; I think having my armpits smell like Orange Neroli would be cool.
I see where she's coming from with all natural brands that don't work. About ten years ago, my hippy brother in law gave me some all natural deodorant for Christmas. It was total crap. If it had worked, I was all in, but it didn't.
Will Sharks Smell What Sarah's Stepping In?
First things first. Barbara will be out. Back in Season seven, she invested in Piperwai, a charcoal based deodorant cream. Even though the deal never closed, Barbara will cite it as a conflict of interest. I don't think Mark or Daymond goes for it either. If the customer acquisition costs are good, Mr. Wonderful could take a stab at a royalty offer.
I think Lori does a deal here. She might already be familiar with Sarah as she appears monthly on QVC selling her products and they sell through very well. If they didn't she wouldn't keep coming back. Lori has a history of investing in successful QVC sellers, so I think she'll make an offer, but will Sarah take it.