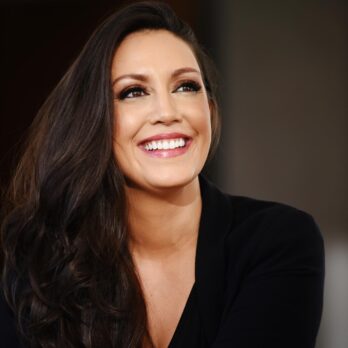 Behave Bras creator Athena Kasvikis is a beautiful, full figured woman with some brass and sass. She grew up with large breasts and suffered back pain as a result. At times, she'd wear three sports bras at a time, resulting in some increased comfort. Unfortunately, this caused a look that she calls "uniboob." For years she sought ought comfortable bras for her "girls" but she was unable to find them. There were either none in her size or they had wires in them, which were uncomfortable to sleep in.
To give you an idea of how brassy and sassy she is, here's her list of "superpowers" from her LinkedIn profile:
1. correctly sizing any women's bust by eyesight alone in less than 15 seconds
2. taking 10 pictures and looking completely different in all 10 of them
3. being able to work boobs into any professional conversation without it getting weird (for me at least)
She started researching how to make the best bra for women DD cup and up in 2017. She used her background in branding and marketing to get things rolling and she officially launched in 2020. With each purchase, customers get a 15 minute "virtual fitting" and instruction on how to wear the bras.
She uses what she call Stayz technology as a component of each bra. Originally designed to provide extra coverage when sleeping, women found the lifting effects gave them a different look. The Stays are a soft stretch fabric meant to stay tucked inside the bra. This provides the extra support usually reserved for wires. Each bra costs $75. She's hoping to Shake up the bra industry which she says ignores full figured women. A deal with a Shark would certainly help her do that.
My Take on Behave Bras
I think Athena is GORGEOUS. If I wasn't otherwise in love with my wonderful wife, I would hunt her down and try to get a date! She's half Italian – like me and I love brassy, sassy, smart women. That said, I loved reading her website. Her content is laced with sassy statements like "big boobs deserve fabulous things." Love Love Love it.
As for the bras, I'm not a customer. My wife is a C cup, so Behave Bras aren't for her. They only come in DD Cup and above. Bras, in a house with four daughters, were a constant topic of discussion. The girls would sit around talking with my wife about them at the dinner table and I was like "can you not?" This led to a family tradition of my wife and kids indiscriminately shouting "BOOBIES" at random moments. I guarantee my wife will shout it as we're watching this segment. That said, I'm in.
Will Sharks Like These Boobies?
I don't think Mark or Kevin will make an offer on this – it's just not in their wheelhouse. Barbara, who is rather flat chested, will likely use that as an excuse to bow out. Lori is a bit more full figured than Barbara, but I don't think she's in the DD Cup range. She could be drawn to the designs however. Daymond invested in Booty Queen Apparel back in season 8. During that pitch, he got all excited that "the Booty is back." Perhaps he'll get excited about boobies.