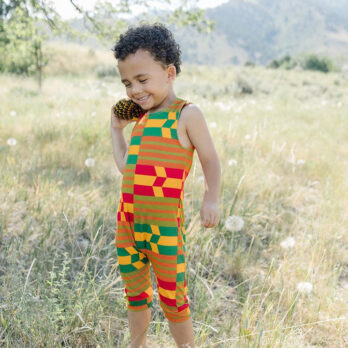 Two things led Temidayo Adeokun to create Ady and Ayo, her line of children's clothing that features traditional African patterns. The first was the fact that she couldn't find anything like it, so she started making them herself. The second was the Covid-19 pandemic. The Nigerian immigrant was a practicing attorney, but when the pandemic hit, she was furloughed and she threw herself into the business full time. Originally, she just made clothes for her newborn son, but when people showed interest in the clothing, she started it as a side-hustle. Now, the business is a full time endeavor.
Temidayo named Ade and Ayo (pronounced Ah-day and Eye-yaw) from the first three letters of her last name and the last three letters of her first name. Ade means "crown" and Ayo means "joy" in her native language. Temidayo wants to do more then just sell clothes, she wants her clothing to be a vessel to teach black children about their African heritage and culture and instill a sense of pride in them. The clothes aren't for black kids though, she hopes children of other races will wear them as a way to learn about African culture as well.
Her website is part online store and part cultural education vehicle. For each pattern pictured, she has a detailed explanation of the region in Africa the pattern comes from and the cultures represented there. In addition to educating about African culture and heritage, she's committed to furthering the education of African youth. A portion of the proceeds from every sale are donated to Imagine Worldwide and Ubongo, organizations that provide a variety of educational resources to African children. We'll likely learn more when she pitches her business to the Sharks in episode 1317.
My Take on Ade and Ayo
I think the patterns are beautiful. I wish she made clothing for adults. If she did, I'd buy them. Unfortunately for Temidayo, I won't be buying any of her clothes – at least until some grandchildren come along! Maybe, as the  business grows, she'll expand the line. I can only hope.
One thing I like about this business is Temidayo's passion about culture. It must have taken a lot of time to reference all the patterns' origins. Another thing I like is the inclusiveness she expresses on her site. Even though she started the business to express black pride in her own child, there are child models of all races, enforcing her desire to educate others about African culture. I think the world would be a better place if there were more people like Temidayo. I'm in.
Do Sharks Like These Threads?
I'm sure all the Sharks will be impressed by the back story, but as it always does, it will come down to the numbers. Sales, customer acquisition costs and profits need to be there. If they are, she has a chance for a deal. Mark has invested in online clothing stores in the past; Red Dress Boutique is a good example. That was back in season six – lately he's shied away from clothing businesses, but he has the team that can make this business thrive. I'd love it if he made a deal.
Mr. Wonderful usually doesn't do clothing deals, so I think he's out. Likewise for Barbara and Lori. That leaves Daymond. I hate when I say he'll bid on a black owned business  because I don't want people to think I'm making the prediction just because he's black. He may or may not make an offer, but if the numbers are good, I think he will.