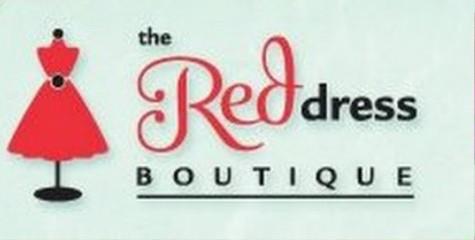 Josh and Diana Harbour pitch their wildly successful online dress business, the Red Dress Boutique, in Shark Tank episode 605. Diana started the business after becoming dissatisfied with her  "secure but soul-crushing" job. She decided fashion was her passion, so she started selling dresses from her basement via an Ebay store. Later the same year, she got the bug to open her own brick and mortar store, so she cashed in all her chips, moved to Athens, GA with her new husband, Josh, and opened the Red Dress Boutique. The name came from a red dress she loved as a child. The store did well, but things really took off in 2010 when she opened an online store. Now, the Red Dress Boutique ships thousands of dollars in product every day.
Diana scours the world for what she calls "curated fashion." She picks out clothing, puts together outfits, gives them creative titles, and sells a TON of product. In 2010, the online store did $63,000 in sales, in 2013 The Red Dress Boutique did $7 million. That's a lot of dresses! Diana wants to start designing her own line of clothing, while balancing an already successful business and a growing family. She probably wants a Shark to help with cash for developing new lines and manufacturing connections.
Will the Red Dress Boutique slip into a comfortable relationship with one of the Sharks?
Red Dress Boutique Shark Tank Recap
Josh and Diana enter seeking $600K for 5% of the company. They are the fastest growing, online women's clothing retailer in the nation, partly due to the fact that most of their merchandise sells for less than $50. They hand out samples wrapped up in their specialty packaging. Diana explains how she curates complete outfits by recommending complementary pieces for everything ordered.
Their average sale is $75 and their typical customer orders 5 times a year. Last year, they did $8 million in sales and they are on track to do $12-$15 million this year, which wakes up the Sharks. Their growth in four years impresses the Sharks as does their story of bootstrapping. Diana grew the business with aggressive social media marketing. When Diana starts talking about her dad's death as a motivator, it gets a bit misty in the Shark Tank.
They explain they will net $2 million in profit on their sales. Mr. Wonderful thinks the road ahead involves "cloning" Diana, which he thinks will be difficult, he's out. Lori doesn't think she's the right Shark, so she's out. Daymond says they are the FUBU of their category, but he can't help, so he's out. Josh says he knows how to grow a company and they need the $300K to revamp the website for better back-end data and analytics. Robert says that's his area of expertise and offers $600K for 15%, but Josh and Diana decline.
Mark asks what the bottom line is. They say $600K for 10%, then Robert says he'll partner with Mark at $1.2 million for 20%  ($600K each) and they accept!
Red Dress Boutique Shark Tank Update
After the show, the Red Dress Boutique's website crashed, costing untold dollars in missed business. Despite that, they did one million dollars in sales in the six days following their air date. Their old site can't stand up to the traffic. They tried re-vamping the old site, but it didn't work out to their satisfaction. They figured fixing the old site and redesigning a new site costs the same money – about $250K.
The good news is, sales went up to $14 million and profits went up 100%. Average order size is up 10 dollars per customer. When they approach Mark about the new site, he thinks it could be catastrophic. One of the reasons is changes to the site cause stability problems. He thinks sales could suffer if they make too many changes. Diana wants bigger photos, but Mark thinks "perfection is the enemy of profitability." He wants to accelerate the current site.
Josh and Diana still want a new site. Mark thinks he knows what they're going through and they should trust him. He has the team to keep the old site running and they've kept it going (with a big increase in sales) since the deal was made, so he's averse to changing things and potentially crashing the whole site. Josh and Diana still want to go ahead with the site and tell Mark they've signed a deal. Mark isn't happy.
Josh understands the risk, but Mark says changing the site could still be too big of a risk. He'll offer his advice and support for the new site, but he's still not pleased. After all was said and done, Diana still sees Mark as a mentor, but she'll own the decision; her biggest concern is a better customer experience with the website. Mark doesn't agree with their choice but he's vowed to help them succeed.
In an update segment in episode 702, Josh and Diana re-live the website dilemma and reveal they didn't go with a new site. They ultimately took Mark's advice and sales have never been better. The money they didn't spend on the new site saved them cash they spent on developing a Red Dress app and their own clothing line. As a result, Red Dress did over $14 million in sales in 2014! They also opened a brick and mortar store called Fringe in Athens, Georgia.
On January 17, 2019, Diana announced on her Instagram that she bought back her equity from the Sharks for an undisclosed amount.
As of December, 2022, the business continues to do well. Annual revenue is $29 million.
Posts About Red Dress Boutique on Shark Tank Blog
Red Dress Boutique Information
Video