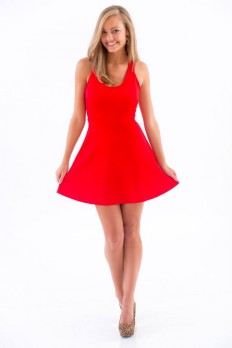 The Red Dress Boutique might be the most successful business to enter the Shark Tank in season six, or any other season for that matter. Husband and wife business partners Josh and Diana Harbour took Diana's dream and turned it into a $7 million dollar per year, online juggernaut. They'll pitch in the Shark Tank in episode 605.
About ten years ago, Diana had enough of the corporate world and started selling dresses online out of her basement. A trip to Athens, GA with then fiancee' Josh gave her the inspiration to open a shop: The Red Dress Boutique. Diana soon found her online business growing by leaps and bounds and sales went from around $60K to over $7 million just 3 years after starting the online store in 2010.
The Red Dress Boutique fashions are "curated" by Diana. She travels all over the place finding fashions her customers will love (and buy). The Red Dress Boutique has over  1.2 million Facebook  fans and the page is chock full of pretty models wearing Diana's latest fashion finds.
Ever the innovator, Diana wants to start designing her own line of clothes to add to her already diverse, curated finds. Whether that means more retail locations or placement in retail chains remains to be seen, but the Red Dress Boutique online store does WAY MORE business than the brick and mortar shop. Whatever Diana and Josh want the Sharks for, whether it's to expand their retail presence or just get some help developing Diana's new line, The Red Dress Boutique is moving forward.
My Take on The Red Dress Boutique
When a company with $7 million in annual sales walks into the Shark Tank, my immediate reaction is: "what the heck do they need the Sharks for?" Barring any back story full of mismanagement or bad debt, I can't understand why The Red Dress Boutique is in the Tank. Money can't be a problem for the Harbours, or at least not a big one; surely they could find credit sources with those kind of sales numbers. The only logical explanation is if Diana wants to get into manufacturing her own line and wants an expert on her side.
I compare The Red Dress Boutique to Rufflebutts from season 5. The Schaubs had Rufflebutts at $5 million in sales for the year and they did an on air deal where Lori loaned them $600K for two years in exchange for 9% of the business. There's no evidence the deal ever went through and Mark Schaub coyly said in a post-show interview they were "still in negotiations with a savvy person with countless connections."
I don't think The Red Dress Boutique would do a deal like Rufflebutts, other than to have a "happy Shark Tank moment" with oodles of publicity. The business is obviously going to be prepared for the Shark Tank Effect: they're upgrading their website the week before they air – presumably to handle the torrent of web traffic they expect. With over 10 million page views per month, I'm sure they have a crack team on the website upgrade.
As for the clothing at the Red Dress Boutique, I'm afraid I can't say much. I certainly wouldn't wear it, but my wife would look lovely in most of their clothes. Alas, she's a jeans and tee shirt gal who only wears dresses a few times a year. My daughters (I always consult them when there are female products on the show) LOVE the fashions on the site and my oldest actually bought something from them last year. If my girls like the stuff, so will a lot of others.
I'm thinking they'll get a deal, but it could be a publicity play. There are a lot of successful businesses that appear in the Tank, since the producers removed the appearance related royalty clause, that do deals that never come to fruition. It makes for good TV and good PR.
Will the Sharks Dress Up an Offer?
With a business as successful as the Red Dress Boutique, the Sharks will undoubtedly pick away at the weaknesses. Rufflebutts took a lot of flak from Mr. Wonderful for having too many SKU's; we may hear that criticism – however foolish and unfounded it may be – again. Obviously any big, online store is going to have a lot of SKU's; it's criticism made for TV.
The Sharks ought to be impressed by the Harbour's story and their sales. There's no substitute for strong sales numbers in the Shark Tank. With $7 million in sales last year, The Red Dress Boutique is going to come in at around a $17-$18 million valuation. That's a fair number, but the Sharks will attack it. I can't imagine the Harbours would drop the valuation too much to do a deal.
As for who invests, the obvious target has to be Daymond; he's the fashion guru. He could also help with developing Diana's own line. Could it be they are there to strictly deal with a new company for Red Dress branded clothing? That would put a different spin on things! Regardless, Daymond is the only logical Shark to partner with. Lori may throw her hat in the ring, but Mark, Kevin, and Robert will bow out graciously.
I may not be right (I'm right half of the time), but it's either a deal with Daymond or nothing for the Red Dress Boutique.