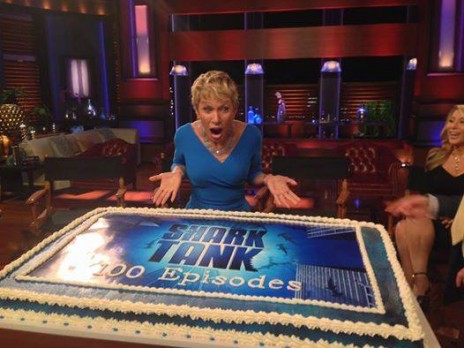 I got very excited when I found out Kimberly Aya and her cake rental business, Fun Cakes, was going to appear in Shark tank episode 606. I first "met" Kimberly as a reader of THE Shark Tank Blog, she won one of the many contests we have throughout the years. When I interviewed Kimberly, she told me she'd never won anything in her life (other than an appearance on Shark Tank that is).
Fun Cakes is a unique business. It's called Fun Cakes, but there is no real cake involved. Kimberly offers a cake rental business. She's a professional baker and cake artist, but the cakes she rents are Styrofoam! She decorates multi-tiered, "faux" Styrofoam cakes for special occasions (weddings are about 75%-80% of her business), and, in the process, saves people 75% on the cost of a fancy cake.
If you've ever seen Cake Boss, you see that cakes can get pretty elaborate – and expensive! Kimberly can deliver a representation of a very elegant, tiered cake for a fraction of the cost. For instance, you could spend $800 on a layer cake made with real cake, or you could get a Fun Cake rental for $200, then spend $20-$30 on a sheet cake for people to eat. That kind of dollar savings is better spent elsewhere, especially for newlyweds.
Fun Cake rental is catching on in a big way. They do a lot of corporate cakes in addition to their wedding business and they've shipped their cakes as far away as Australia. While there are other, similar businesses – usually local bakeries looking to add value – Fun Cakes is the only cake rental business where you can order online and have the finished product shipped anywhere.
Kimberly has the best story about how she got on Shark Tank. Her application was ingenious and it produced results – future Shark Tank wannabees should take note!
My Take on Cake Rental
BOTH times I got married, I remember dropping some fairly large bucks on the wedding cake. As a dutiful husband-to-be, I simply smiled and said "that looks wonderful, darling" before writing a check. I wasn't aware of a cake rental option – if it existed – at the time. I know my wife and I got married before FunCakes was in business. Personally, I would have rather had the extra $600-$800 to spend on our honeymoon!
Kimberly has her business running efficiently and she has the whole shipping logistics thing worked out. Fun Cakes just revamped their website and they're ready for the Shark Tank Effect. Any time you can provide value for people, particularly on an item they're going to purchase anyway, you'll have success in business. Kimberly is proving that on her own, but will the Sharks think so?
Do Sharks Eat Cake?
When I interview someone before they go on the show, I need to be careful about what I ask them so they don't violate their NDA with the Shark Tank, and Kimberly was no exception. Here's what I do know: Fun Cakes just redid their entire website and they went with Shopify. That used to be a strong indicator of a deal, but Shopify does such a good job and they've NEVER crashed a site on show night, so many entrepreneurs go with them – deal or not. The other thing is Kimberly amped up her staff in anticipation of increased traffic and interest, but that should be standard operating procedure for any Shark Tank entrepreneur.
So it comes down to the usual speculation: what will she value her company at, what are sales, and will the Sharks bite? The valuation will be important, because Fun Cakes has sales. She's doing 100-150 cakes per month; that's a minimum of $22,500 plus per month. Factor in "special orders" like the 350 cake order she got from a cosmetics manufacturer, and Fun Cakes has serious sales, easily demonstrated over their 7 years in business.
I don't think Lori goes for the cake rental concept, she might like it, but it's out of her realm of expertise. Any of the other Sharks might bite. though. Because the nature of the business is internet based, Robert, Mark Daymond or Mr. Wonderful could go for it. The episode video preview makes it appear Mr. Wonderful is "scolding" Kim, but those clips are often manipulated. Still, we may hear the Mr. Wonderful standard royalty offer of "X dollars per cake rental," after he asks why he couldn't just hire cake decorators and start "Mr. Wonderful's Cake Rental Business."
Mark likes smart entrepreneurs who execute, and Kimberly's done that in the online sales space, so he could bid. Likewise for Robert. Daymond could throw his hat in the ring, too since he's all about diversifying his "Shark Tank Portfolio" this season.
Barbara is the intriguing Shark in this pitch. One of her most successful entrepreneurs is Daisy Cakes, a business which sells and ships real cakes online. She already knows the core business, and Fun Cakes wouldn't compete with Daisy Cakes, so it could be a very good match. Kimberly's goal is to open a new location in Las Vegas where the multitude of weddings (around 300) each day would keep another location humming along nicely while lowering shipping costs for west coast customers. I think Kimberly gets a deal on Friday!