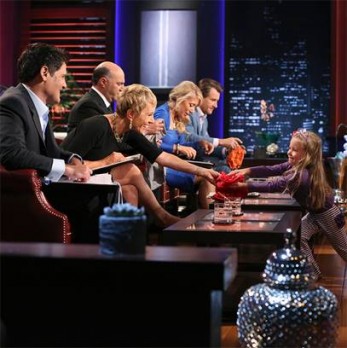 Mark and Amber Schaub took some time to speak with me for a Rufflebutts update interview. They spoke about their business history, their trip to the Shark Tank, and what drives them as entrepreneurs. We chatted for over an hour and if they lived in my area, they're the type of folks my wife and I would hang out with – we have a lot in common. Both Mark and I were in the mortgage business and Amber was in real estate (like my wife and I are now). We share a love of entrepreneurship, Survivor, and the Shark Tank!
Rufflebutts Before Shark Tank
Amber had the good fortune of running into Shelly "ShoNo Towels" Ehler at the Kids Expo trade show right before the Schaub's segment aired. "She was great," says Amber, "she walked me around and told me about the whole Shark Tank experience – what to expect – that sort of thing. She gave me the 'low down' on the whole thing. A lot of people view Shark Tank as journalistic TV, but it's reality TV. People are unaware it's not 100% real. It's entertainment first, I mean everyone knows 'Real Housewives' isn't real. Shark Tank's the same thing."
Mark Cuban was a big part of why Amber wanted to go on the show. "I met him briefly back in 2006. I was selling condos at a place called Victory Park, which is attached to the American Airlines Center where the Mavericks play. Mark was at the launch party and we spoke briefly. He's an inspiration to me. He's ambitious and he goes after what he wants. The great thing is he shares it on his blog – we follow his blog. He's the type of guy who wants to know more than the people he's selling to. After I met him, I figured if he can do it I can do it too."
Amber's husband, Mark, chimed in on Cuban. "What we like about him is he comes from modest beginnings and he's willing to get up early and work harder than everyone else. He's off the cuff, no filters, he's the type of guy who wants to do the right thing and he doesn't care what people think. We relate to that."
As a mature business, the Schaubs had a lot to consider before applying to get on Shark Tank. I asked about the recently removed contract clause that allowed the producers to take anywhere from 2-5% of sales over a period of two years. "We looked into Shark Tank before, when we heard they eliminated the clause that let's the producer exercise an option on the business, that changed our minds. The show is relative to the stage of the business. 2-5% of a mature business doing millions in sales is significant. Even though they hadn't exercised the option much in the past, we were not willing to go on with that clause in there. Removing it opens it up for all kinds of businesses to appear on the show."
When I told the Schaubs Mark Cuban was the driving force behind eliminating that option clause, they both said it didn't surprise them it was his idea.
Rufflebutts in the Tank
"We were fortunate to get our story to the Sharks," Mark continues, "They recognized positive aspects of our business. It was a very positive experience overall. The actual negotiations are not compelling TV for me. We wanted to tell our story about a growing business, I was OK with the Sharks having fun with it. If we had our way, we would have preferred being on for the whole hour!"
"It was a dream come true," Amber adds, "to put our business in front of 7 million people. The exposure is priceless. We were in there for almost 2 hours. Obviously nobody gets on national TV and gets the edit they want, but I wish viewers heard more of our story, I really wanted that out there. A lot of people have an idea, but they have fear. I wish they'd shown the more inspirational side of our story, but the edit came off true to the business side."
"They showed me tearing up, but it wasn't because of the negotiations. When I teared up, it happened because the Sharks were being so kind to us. I mentioned we like to pay it forward, and Robert said 'I can see that about you.' I was shocked at the kindness we experienced and it just got to me."
Post Shark Tank Rufflebutts Update
"When we watched the episode," says Amber, "we were dealing with our website and Twitter, so we didn't watch closely. We definitely had a lot of discussion about what was not shown. We weren't banking on Shark Tank, our business was already growing. We launched in Neiman Marcus a few months ago, and I saw our buyer the day before we aired; she said our products were selling well. The pre-show buzz helped us, even though we made the Inc 500 last year, Shark Tank took us up a notch. We're super grateful."
Mark chimed in on the website activity: "We had done research and we knew what to prepare for. We prepared for three times what the producers anticipated, but we got ten times that! The site went down for 45 minutes to an hour, then it was fine for the mountain time and west coast airings. Saw bump in sales –  traffic was multiple of average on normal day. A week later, we're still at three times what it was and sales are absolutely converting."
A day or two after the show aired, Business Insider said Rufflebutts was "one of the worst deals we've ever seen made on Shark Tank." Amber took exception to those remarks. "I'll have to admit, that stung a little. We're positive, pay it forward types, but it's part of being on a reality TV show. The Business Insider article said we didn't negotiate the loan versus the equity stake, but we did negotiate it, for thirty minutes, it just got cut out. The second thing I have to say about that article is we can laugh all the way to the bank, as a business we are very successful!"
As for the deal with Lori, Mark had this to say: "Our official company line is we're still in negotiations with a savvy person with countless connections. Barbara said on the show 'all Lori does is sell products.' If that's all she does, that's a good thing for us." (the deal never closed)
Even though Rufflebutts and Ruggedbutts were doing well before Shark Tank, their appearance has opened up some new opportunities. "We are designing a whole new line for a well-known baby retailer," says Amber, "it will be public after the first of the year.  When they saw the show, they called us and said  they wanted to expand their collection."
On Working With Your Spouse and Life After Shark Tank
Amber started the business in 2006 and Mark joined her full-time in 2010. They had a few things to say about working with your spouse. "We learned a wall and separate offices is a necessity," Amber jokes. " But seriously, we have complementary skills and we balance each other well. In reality, the trust we have is priceless; who can you trust more than your spouse?"
"I would liken it to Survivor," alludes Mark, "people on that show, those who can partner up and align with someone they trust – those relationships go further. People who work with that level of trust do well on Survivor and that's how it is with us. It's good to know we have each others' back."
As for their favorite Shark Tank pitches from the past, Amber says "I don't remember the products so much as the people. I am always rooting for them. It's just great to hear about good products and businesses  that succeed because they were on the show. We do go around the house singing  'spread it, mix it , shake it, stir it,' [from MangoMango] so I guess they made an impact."
As for advice to budding entrepreneurs, Mark had this to say. "There are lots of fancy things to take an entrepreneur's attention away. You have to continuously focus on your customers and your products – and truly mean it – and deliver a fantastic experience. Everything else may not fall into place, but you have to keep that mindset as the core of your business – and have a little bit of luck."
Amber adds, "Mark and I are on the same page. Some people start a business and everything falls into place, for others it doesn't, but you need to have 100% commitment. Mark Cuban does and we do too. Entrepreneurship is impossible without hard work."
I had one other question for the Schaubs. They answer it on The Hot Dog Truck.