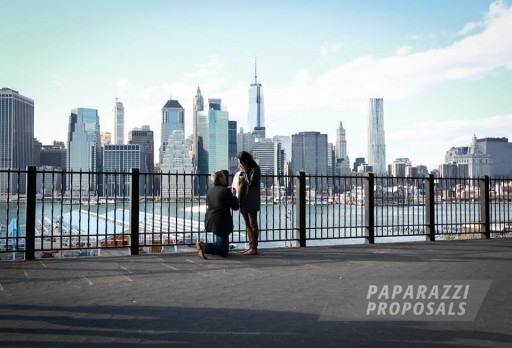 James Ambler brings his engagement photography and proposal planning business called Paparazzi Proposals to the Shark Tank in episode 508 on November 8. Remember when you "popped the question" to your loved one? Wouldn't it be nice to have beautiful photos of the moment you asked and the reaction on her face? That's what Ambler and his engagement photography service do!
Paparazzi Proposals offers engagement photography and "proposal planning" services in New York, Chicago, San Francisco, and Philadelphia. They'll give you a hand with "setting the scene," from choosing romantic and photogenic spots, to laying out a picnic blanket or any other " finer details." Like real paparazzi, they'll follow you around and capture the "build-up" to the big moment. Essentially, they are a wedding photographer that takes pictures before the wedding.
My Take on Engagement Photography
I think this is a sweet idea. I don't have any pictures of my wife and I when I asked her to marry me. It would be nice to have a picture of that moment, but there's no way I could have pulled it off, unless I had a service like Paparazzi Proposals. There are a lot of people who love to have that photo and the added benefit of planning out the details is an added bonus.
I don't know a woman in the world who wouldn't want a picture of that moment; it's more precious than the diamond ring. The only thing that could possibly go wrong is if she says no! The Paparazzi Proposals Facebook page is loaded with pictures of happy couples, beautifully shot in stunning locations. Once they get their name out there, I think there will be a lot more.
Are the Sharks Engaged?
This is one of those businesses that's a great idea, but I don't think the Sharks will bite on this. They'll think it's a good idea, but there will be questions about how proprietary the engagement photography business is. Theoretically, anyone with a good camera, a good eye, and a penchant for stealth could start a similar business. The key is making the entire experience positive and getting the shot right. While I think it's a good business, I don't think the Sharks bite on this one