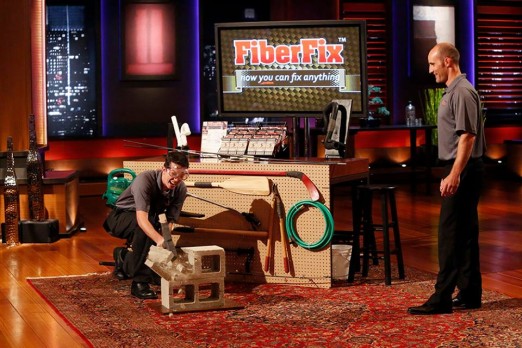 It shouldn't take long for Shark Tank to broadcast a FiberFix update segment; the company is poised to explode and Fiber Fix is going to be the next ubiquitous item in homes everywhere. I spoke with Eric Child recently to get a quick FiberFix update interview after their segment aired. My suspicions were confirmed: FiberFix is growing rapidly!
FiberFix Update
Eric spoke to me because Spencer Quinn is still a student at BYU and had to get to class. There are actually 5 principles in the company: Reed Quinn, Chris Quinn (Spencer's cousins), and Derek Rowley. "Reed an I are a bit more experienced," Eric explains, "we've run other companies. The other guys are all still students. Spencer and I went on the show because we're the most handsome of the bunch!"
The FiberFix crew is acquainted with some other Shark Tank alums. "We know Nate from Mission Belt, Dallas from Kisstixx, and Garret from Scan. They all went to BYU. There's not a formal Shark Tank Class at BYU, but they have a well-known, active entrepreneurial center. The school has a business plan competition each year and last year Spencer participated. He took first place in the investor portion and second in the 'crowd favorite' portion."
"With BYU and Utah Valley University, there are a lot of sharp people in the area. Provo is becoming recognized as an entrepreneurial hub as a result. There aren't many corporate HQ's and all these smart people channel their talents to entrepreneurship."
"We started working on FiberFix a little over a year ago. [2012] What first got me thinking about it is fixing plumbing. I was going on vacation and about an hour before I needed to leave, I discovered a sprinkler line that had a leak. I tried to fix it with gorilla glue and duct tape, but it didn't work so I turned off the sprinkler system and everything was dead when I got back."
"We first came across the idea for FiberFix from a medical doctor we know. He was using medical tape – the kind they use for casts – to fix an ATV. It didn't work. That experience started a thought process. Medical tape breathes, FiberFix needed to be watertight. It also needed to support weight and resist impact. We did trial and error –  wrapping pipes with different versions of this medical tape compared to duct tape. We kept modifying the weave and resin and settled on a formula that worked."
FiberFix goes into the Shark Tank
"Around the end of February, 2013, we had a working prototype and we had the product ready for market around the first of April. We taped Shark Tank in July. Shark Tank actually called us last spring. What happened was Reed's neighbor, a professor at BYU, sent a letter to the producers. One day they just called us; we sent in an application and they liked what they saw then asked us to tape. We hadn't thought of Shark Tank. I think we're going to send him on a Cruise or something to thank him!"
"The producers removed the option clause before we went on the show. I'm not sure what we would have done if that clause was in there. The option would have given us a lot more to consider; not having to deal with it removed a lot of hesitation."
"All the Sharks liked the product. Robert and Lori gravitated to it most and the edit reflected that. Robert was in love with it right away."
"We did a deal with Lori and we've closed our deal. We're plowing ahead – we went on QVC the Saturday morning after airing and sold 15,000 three packs. Lori knows her stuff with QVC, she's amazing. We had a deal with QVC before we went on Shark Tank and put it on hold after dealing with Lori. We wanted to do it right. I am a total believer in her as the Queen of QVC: she owns the place. You can tell by how people treat her and talk to her she's very respected."
"All of us spent all of the weekend before airing rehearsing for the QVC show in Pennsylvania. We watched Shark Tank in a QVC green room spent time with Lori and her husband, they're nice, down to earth people."
Shark Tank Aftermath
"Based on what happened with other Shark tank businesses, we wanted to make sure our website didn't crash. After talking with a dozen or so companies, we decided to go with Shopify. The website saw a huge spike in traffic – I don't have the stats, Spencer headed that up, but we didn't crash."
"One of our biggest sales drivers is our call center. We have people calling on independent hardware stores, selling FiberFix. 50% of the hardware industry is independent stores, so we can't ignore that. It's a double-edged sword. With big companies you get into 3K stores in one fell swoop, but the process is long. Independents are easier – we've closed over 1000 ACE hardware stores, so in a sense, we control our own destiny. ACE is an owner conglomerate; they have a central warehouse that does bulk purchasing, but you can't get in there until your product is proven."
FiberFix Moving Forward
"FiberFix is making sales and making money, but we need to get to a certain scale until we start dropping it to the bottom line. Right now, we're pumping profits into the business, giving ourselves brand exposure, and growing the business. We're exploring doing an infomercial to support retailers, but we need to test to see if they convert. The verdict is still out on that, but it could work because the product is so demonstrable."
"As for other products, we currently have two more in development. One is a high heat-resistant version for automotive applications and the other is a patch. Fiber fix needs to be wrapped, but people want to use it as a patch, so we're working on that. I'd like to have them developed in 6 months to a year."
Eric offered this advice to budding entrepreneurs:
"Don't go it alone. Put a good team around you that knows what to do. I've seen too many entrepreneurs flounder because they're unwilling to build a team around them. That's what we did with FiberFix and I think it's been very successful."
I had one other question for Eric. He answers it over at The Hot Dog Truck.