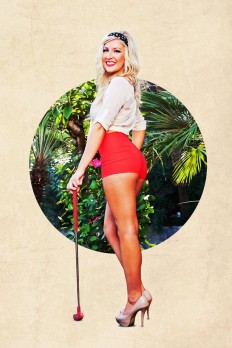 What does a hot girl caddy do for your golf game? Probably nothing, except make it a bit more interesting – and scenic! Meghan Tarmey, a model and the brains behind the beauty of this operation, hopes the Sharks like her hot girl caddy service, Caddy Girls, enough to invest when she pitches in episode 605.
Tarmey started the Caddy Girls after graduating from Coastal Carolina University in 2005. She'd done some modeling and wanted to use her modeling background to make a business. Since that part of the country is a golfing destination, she offered caddy services with a feminine touch. The Caddy Girls, besides being beautiful models, are all certified with the Professional Caddies Association. They know their golf.
A hot girl caddy from Caddy Girls costs $149 (plus tip) and your caddy will do everything any other caddy does: pick your clubs, advise on distance, and carry your bag. They have group rates too for golf outings and charity golf tournaments.
The Caddy Girls is also a modeling agency of sorts, providing models for print work, promotions, trade shows and events throughout the Carolinas. The hot girl caddy services are available in the following states: Arizona, California, Florida, Georgia, Massachusetts, Maryland, North Carolina, New Jersey, Nevada, New York, South Carolina, Tennessee, Texas, and Virginia. Meghan wants to go national with Caddy Girls and hopes the Sharks will see GREEN!
Would I use a Hot Girl Caddy from Caddy Girls?
This one is a conundrum, but the short answer is YES. My wife (and other wives) might have a problem with me riding around with a hot, young model while I'm playing golf. I'm not sure if it would be "distracting," either. What I do know is a lot of guys would pony up the $149 for the novelty of a hot caddy girl. Look at the popularity of Hooters, do you think the brand would be as big as it is without the pretty faces? I imagine it's a great bachelor party/golf outing idea, too.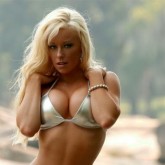 The fact that Meghan (pictured on the right) has expanded to 14 states shows the popularity of the concept. I'll bet they do a pretty good business. They even have a Caddy Girls calendar.
Do Sharks See the Green with Caddy Girls?
This business is all about "the hype" AND the girls. If Caddy Girls makes money under its current model, they could expand anywhere there is a golf course and pretty caddies to do the job. I'm not sure Lori will go for this business as she might find it a bit sexist (but who's to say she wouldn't expand to "Caddy Guys?").
The male Sharks might have to reel in their emotions. All of them will find Meghan and the model(s) she brings with her attractive, but the crux of the biscuit will ultimately come down to the numbers. If the numbers are good, any of the guys could jump in, not just to pad their portfolios, but to pad their testosterone based egos!