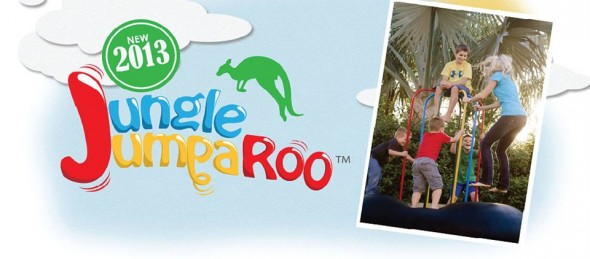 Steve and Rachel McMurtrey, husband and wife entrepreneurs from Utah, pitch their version of a better bouncing toy for kids in Shark Tank episode 605. Their Jungle Jumparoo was a 2014 Parent's Choice Award winner because it's fun, compact, promotes exercise, and it's safer than traditional trampolines. The only other bouncing toy alternative to the Jungle Jumparoo is a trampoline and kids are constantly getting injured using them.
What makes Jungle Jumparoo a better bouncing toy is its construction. Basically, it's a giant, super-strong inner tube with steel poles mounted to it. Jumpers hang on to the steel poles for stability, lessening the chance of awkward falls or collisions with other jumpers.Using the Jungle Jumparoo is good exercise for kids and adults alike and most kids don't want to stop bouncing once they start. There are a few accessories, including a sprinkler, to liven things up even more.
Rachel grew up using a similar bouncing toy a farmer near her home invented; it was never sold to consumers though. The farmer has passed on, but the McMurtrey's acquired the rights to the invention and mounted an unsuccessful Kickstarter campaign to fund production in 2013. Even though they didn't get funded on Kickstarter, they are selling their product and it's received rave reviews.
My Take on the Bouncing Toy
I used to love jumping on trampolines when I was a kid, my kids love to as well. Unfortunately, trampoline injuries are too common. My son was "that kid" who always ended up with a bloody nose while jumping on a trampoline and a friend of mine blew out his ACL on one. Trampolines are dangerous. Bouncy houses are fun, and a lot safer than trampolines, but they require power and a lot of space.
The Jungle Jumparoo is a nice fit in the bouncing toy space. It's safer, more compact, and far less expensive than trampolines and bouncy houses. It looks like a heck of a lot of fun, too. Any kid would love to have one and parents can feel good about their purchase. I think it's a winner.
Will the Sharks Jump in and Invest?
The Jungle Jumparoo looks cool, but the downfall may be that it's a single product company. The Sharks may or may not pounce on that aspect of the business. The numbers will tell the true story. If the margins are good and sales are reasonably strong, there could be some interest.
I'm not sure if Lori goes for this since it seems, at $300, a tad too expensive for the QVC Channel. Robert will get up and bounce, but when it comes time to make a decision, he'll likely sit this one out, Daymond too. I think that if Jungle Jumparoo gets a deal, it's either Mark or Kevin. Mark will be interested if the McMurtreys are on their game, but Mr. Wonderful is the real catch. His toy company connections could help Steve and Rachel scale quickly.
I'm not sure if they get an offer at all, but if they do, it's Mr. Wonderful or Mark.