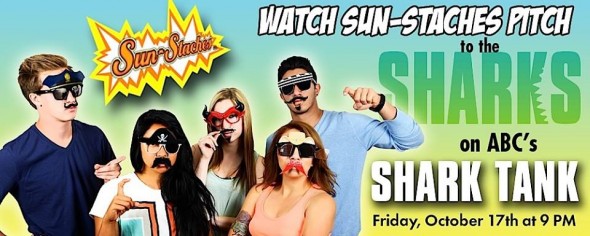 The guys who invented Sun Staches did what any good friend would do for a friend who had trouble growing facial hair: they put a mustache on some sunglasses and gave them to him. It sounds weird, but that's how Sun Staches got its start! College buddies and business partners Dan Gerson, David Levich, and Eric Liberman take Sun Staches into the Shark Tank in episode 605 with the hope a Shark will partner with them as they continue their mission of world conquest.
SunStaches is already doing big business. Their estimated yearly revenue is over $6 million and they have licensing deals with Nickelodeon, Warner Brothers and Universal and they're looking to get more. With some of their sports-themed Sun Staches, the NFL and other sports licenses can't be far behind. You can find Sun Staches in Urban Outfitters and on Amazon, but they probably need a little help getting into more retail outlets and with further licensing.
The Mustache Sunglasses were the company's first product, but now they have costume quality shades with everything from the aforementioned licensed images to Uncle Sam, cowboys, pirates, even Santa!
My Take on Sun Staches
This is one of those goofy, fun products people (including me) just love. I am the proud owner of several "Groucho nose" glasses, but Sun Staches takes it to another level. This is the type of thing all ages can enjoy too. The Sun Staches guys might not change the world, but they'll sure make it a heck of a lot more fun.
This is another company that, on the surface, doesn't seem to "need" to be on Shark Tank. They are doing very well and they've proven they can obtain big licensing deals and sell into big retail. With over $6 million in revenue, you'd think they have enough dough to go it alone. Maybe they need cash for a big order or help scaling quicker.
Will the Sharks "Stache" an Investment?
Whether they get a deal or not, this should be a fun segment. Previews of Daymond wearing a football helmet Sun Stache look hilarious. The Sharks will be impressed by the progress the guys have made with the business and even Mr. Wonderful has to give them kudos for their sales. I truly think any Shark could bid on this, but Kevin, Daymond, and Mark would be the best fit considering the licensing aspect of the business. Robert might be interested, too, since they have robust online sales which he's comfortable with. I don't think Lori bids, but you never know – they could sell well on QVC.
One thing's for sure, after they air, they are going to sell a crapload of mustache sunglasses!