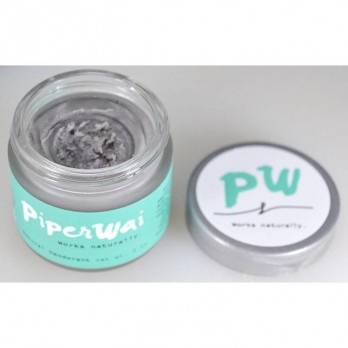 Jess Edelstein and Sarah Ribner have been in business together long before pitching PiperWai, their all-natural, charcoal-based deodorant, to the Sharks in episode 712. The friends actually ran a lemonade stand together as kids! They've come a long way together: they ran a successful IndieGoGo Campaign, raising over $27,000 to get their business off the ground.
Piper Wai is a cream deodorant that uses activated charcoal to absorb underarm sweat. Underarm sweat doesn't smell, that is until it festers in the nether regions of the armpits and grows bacteria. Typical deodorants block the sweat glands in the pits; PiperWai creates a pH-balanced environment where bacteria can't grow – thus eliminating the stink. It's made with organic coconut oil, shea butter, cocoa butter, pure vitamin E oil, and the aforementioned activated charcoal.
One jar of the product will set you back about 12 bucks. You can buy it at a couple of dozen natural food and supplement retailers on the east coast, and on Amazon. Jess and Sarah likely need a Shark to help them get broader distribution and cash for production.
Will a Shark bite on PiperWai or will they think the business stinks?
PiperWai Shark Tank Recap
Jess and Sarah enter seeking $50k for 10% of PiperWai. They explain about toxic ingredients in conventional deodorants and how PiperWai neutralizes odors. Their friend is on stage with them and she just ran five miles; she's wearing PiperWai. They ask the Sharks to sniff her pits and Lori does it. She says they don't smell and the other Sharks take her word for it.
Jess explains what makes underarm sweat stink and how Piper Wai creates a PH balanced environment. They found in their research that people still prefer a stick, so they have a stick deodorant in development. They've done $110K in sales in ten months. They sell each jar for $11.99 and it costs $2.44 to produce.
Barbara wants to know what they want an investment for and the girls say to help them scale up and develop the stick. At this point Kevin says he's having a hard time with the concept. He doesn't think deodorant is an online sale and can't see how he'll get his money back; he's out. Robert goes out too. Mark wants to know if they have many testimonials and why haven't they increased sales. He thinks they aren't self-aware; he's out.
Barbara likes them and she believes them; she offers $50K for 33%. Lori says she's been looking for a natural deodorant and offers $50K for 35%. After a break, Lori says the girls need a lot of help and she builds brands; she doesn't pull the plug on her entrepreneurs. They counter Lori with 25% and Lori says she works a lot for her businesses. Next, they ask if Barbara will go to 25%, and she stays at 33%. They ask again and Barbara goes to 25%. They do the deal! Barbara says she did it on gut instinct and to beat Lori.
RESULT: DEAL with Barbara for $50K for 25%
PiperWai Shark Tank Update
The Shark Tank Blog constantly provides updates and follow-ups about entrepreneurs who have appeared on the Shark Tank TV show. In just ten days following their original air date, PiperWai hit the million dollar mark for sales. Total sales reached $1.3 million and they sold out of the 10,000+ units they'd set aside for show night. The company was the third fastest Shark Tank business to hit the million dollar sales mark!
PiperWai appears in an update segment in season seven's episode 720. They talk about their sales success and have a meeting with Barbara. Their success is choking their production capabilities and their co-packer can't keep up with demand.
It's taking 4-6 weeks to deliver product. Barbara says they need to be transparent and keep their customers informed. They decide to get another co-packer. Despite the challenges, it's been an amazing experience for Jess and Sarah. They've reached their market and grown as business people.
Even with the update segment, the deal with Barbara never closed. The company is doing between $1-$2 million per year and employs 6 people as of April, 2022.
Posts About PiperWai on Shark Tank Blog
PiperWai Company Information
Video