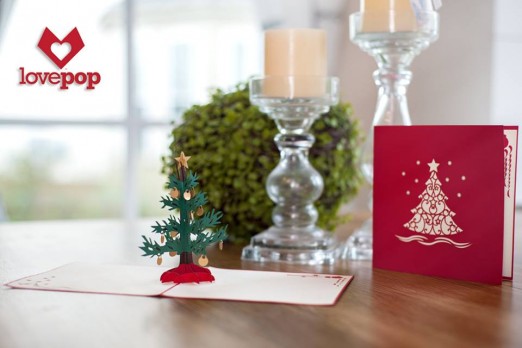 Wombi Rose and John Wise pitch Lovepop, their 3D, pop-up greeting card company, in the Shark Tank Holiday special, episode 712.  The pair met in 2006 while studying to be naval architects and marine engineers. They discovered the art of paper sculpture while on a grad school project in Vietnam and they began making greeting cards based on that art and selling them at fairs and craft festivals. When they saw people's reactions to their cards, Rose and Wise knew they had a solid business idea.
The cards are designed using CAD software and fold completely flat; the "sculptures" are securely attached to the card with thread, and when you open the card, it pops up. They got the business off the ground with a successful Kickstarter campaign that raised over $23,000. A more recent Kickstarter raised over $500 to produce a Donald Trump and a Deez Nuts card.
Public response to Love Pop has been overwhelming. Many people save the cards and use them as decorations. Typical cards cost between $8-$13, more than a standard card, but priced to be worthy of the care that goes into the designs. The company has attracted investor interest, too: to date they've raised $2.6 million from 22 undisclosed investors and they're seeking an additional $825K. They likely need cash for retail inventory. Could a Shark be one of those investors?
Lovepop Shark Tank Recap
John and Wombi open with an "at home" segment in Boston. They explain how they used their background in ship building to create Lovepop. Despite the fact they could have gotten "big money jobs," they are passionate about building their business. They want to hook a Shark to help them expand their retail presence.
John and Wombi enter the Tank seeking $300k for 10% of the business. They recall buying greeting cards that are "just OK," and say in our digital and distracting world, we need tangible things to help with the human need to connect. They hand out "special edition" cards to the Sharks: Mr. Wonderful has a dollar sign card, Barbara has a New York City skyline card, Mark has a guy dunking a basketball, etc.
They tell the story of their background and how they came to discover this art form. They've been in business a year and a half and just graduated Harvard Business School. Currently, they sell the cards at four kiosks around Boston. They use the kiosks as a marketing vehicle to get cards into people's' hands. Each kiosk does $240K in annual sales with profits of $40K. It costs about $20K to set up a kiosk. They make the cards in a production facility that creates about 20,000 cards per month.
Who's In?
Barbara thinks the cards are nice, but she's seen other nice pop up cards. She thinks they are going too fast; she's out.
Lori can't see their valuation; she's out. Kevin likes the cards and thinks they'd be a good fit for the "Something Wonderful Platform" when he hears about their wedding packages. Mark see them "going wide" and he thinks mall rent increases could be costly; he's out.
Robert sees their fanatical culture of service and customers. He offers $300K for 20%. Kevin asks if Robert will partner with him, but Robert doesn't want to. Kevin matches Robert's offer. After a break, Kevin says he can bring a lot of customers. Robert thinks they need to build out the retail presence and cuts his offer to 15%; Kevin immediately matches it. Since Kevin is in Boston, they do the deal with Kevin.
Result: DEAL with Mr. Wonderful for $300K for 15%
Lovepop Shark Tank Update
The Shark Tank Blog constantly provides updates and follow-ups about entrepreneurs who have appeared on the Shark Tank TV show. After airing, Love Pop is producing 20,000 cards a month with 100 different designs.
In Boston, LovePop teamed with Keytar Bear, a keytar playing bear, to hand deliver Valentines cards in the city.
LovePop gets an update segment in episode 725 – just 3 months after their original air date! We'll see if "something wonderful" is happening with this business.
In 2018, they raised $12.5 million from venture firms Accomplice and Highland Capital Partners. In December, 2019, the company took in another $10 million from the same firms and others. Like a lot of companies, Lovepop pivoted during the 2020 Covid-19 pandemic. They converted some of their manufacturing machinery to produce face shields.
In June, 2021, the company named Lisa Scopa as their new CEO. She will oversee a business that employs 800 people and does over $40 million in yearly sales. Also in 2021, the company opened six brick and mortar stores in Boston, California and Florida. Three more stores are slated for New York City in 2022. They also sell cards in hundreds of independent retailers world wide. By September, 2022, annual revenue is over $150 million.
In January, 2023, the company raised another $5 million. $3 million was from the conversion of outstanding convertible securities and $2 million was new investment. Annual revenue is now $160 million.
Posts About Lovepop on Shark Tank Blog
Lovepop Company Information
Video