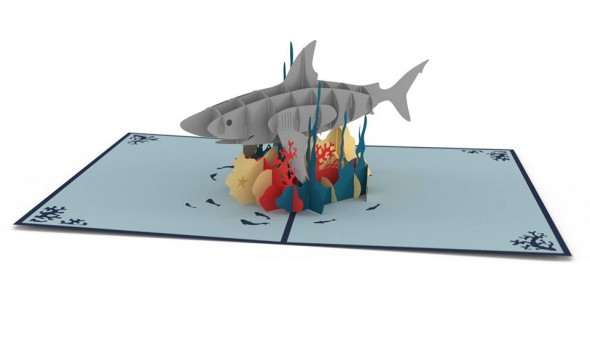 When Wombi Rose and John Wise set out to become naval architects, they may have seen their fair share of Sharks, but I'm sure they didn't dream of pitching Love Pop, their pop-up greeting card company, in Shark Tank episode 712. The pair started the business after observing intricate paper sculpting in Viet Nam on an assignment. Once they got the idea, they set out to create a business using the Harvard Innovation Lab in Allston, MA as their incubator.
Unlike the hand-made Vietnamese sculptures their cards emulate, their cards are drawn in a modeling software which draws the shapes, then sends them to a laser cutter for ultimate precision. The laser cut shapes create the pieces of each pop up sculpture, which is mounted with thread into a greeting card. It's a very high-tech approach to a centuries-old item: the greeting card.
Their first year, they raised over $23K to get their first production run on Kickstarter. That resulted in obtaining about 1000 customers internationally. LovePop cards have gained a lot of interest, not just from consumers either; the company raised $2.6 million from undisclosed private investors. They want their next investor to be a Shark.
My take on Love Pop
I have a love/hate relationship with greeting cards. I enjoy getting a funny or thoughtful card now and again – especially on my birthday or Father's Day and I usually display them on the mantle or dining table for a week or so, then pitch them in the recycle bin.
The "hate" part comes from my wife. She is a whole different animal. We recently moved and I discovered THREE LARGE BOXES FULL OF GREETING CARDS in the basement! She saves every card she ever gets and files them away. I urged her to pitch them before we loaded the moving truck, but she refused. She said she wants to keep them so she can look at them and reminisce. What ultimately happens is they stay in their boxes, never to be seen again.
The Appeal
Love Pop cards cater to people like my wife, so I'm not sure how I feel about them. They really are works of art and many of their customers save them to display year-round. When I first started looking at LovePop, I thought the designs were cool, but had nightmares visions of them all over my house as my wife would never throw them out.
I am being extreme here. The Love Pop guys are on to something. Greeting cards are a crowded market that is in decline and they've managed to make a big impact in a short amount of time. There's something to be said for these two if they can disrupt and innovate this market. Greeting card sales run between $7 billion and $8 billion per year. That's BILLION with a capital "B." A small slice of this market (which despite the large numbers is in decline) would make most people very wealthy. Love Pop found a way to make greeting cards viable; for that reason, I am in – just don't send any to my wife!
Do Sharks Pop Up and Invest?
Wombi and John, in addition to making a lot of headway in a relatively short amount of time, are really smart. Mr. Rose is an MBA student at Harvard Business School and has degrees from MIT and the Webb Institute in New York. Mr. Wise is an MBA student at Harvard and also graduated from the Webb Institute. Brains plus successful execution of a business idea generally do well in the Shark Tank. Earlier in season 7, two other Harvard MBAs did a deal with Mark Cuban when he invested $150K in UnShrinkIt.
Despite the decline in the market, having a nice slice of the $7-$8 billion per year greeting card game is what the Sharks would call "an invest-able business." Love Pop could quickly scale to a $10-$20 million per year (or more) company. I expect a Shark fight over this one and a deal will get done.