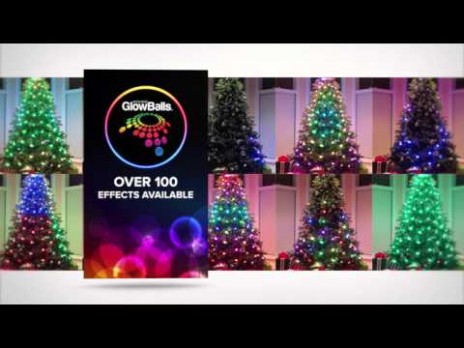 Before inventing Geek My Tree animated Christmas tree glow-balls, entrepreneur Brad Boynik was well-known in western Michigan for going "just a little bit bonkers" decorating his house for Christmas. He was the owner of "that house" in his area; you know, the one you could spot from the moon due to the Christmas decorations! This brought him a lot of regional and local fame every Christmas season.
In his home town of Grand Haven, Michigan, he ran a charity called "Holiday Road" that coupled residents' lighting displays with a charitable fundraiser. The six-year long project netted funds for Special Olympics, The Make a Wish Foundation and many others. that It also brought lots of questions from participants. When he did his displays, he used some of his outdoor animated lights on his Christmas tree inside, put videos on Facebook, and people went nuts. They wanted to know how he did his animated lighting displays.
That is when the proverbial "light bulb" went off. He set out to make a simple, relatively affordable, indoor Christmas tree lighting solution that anybody could use right out of the box and Geek My Tree was born. He made it easier than traditional lights that you weave around the tree. Geek My Tree lights have a ring on top and the light strings come down over the tree vertically like octopus tentacles. The glow balls are round, so there's no worrying about placing the lights properly.
The LED lights glow in a multitude of colors and animate in infinite combinations. They can synch with music, too. All the Geek My Tree lighting magic runs through a smart phone app via a blue tooth connection to the lighting's sensors. The result is an intricate lighting solution that will give any tree the "WOW factor."
Shark Tank producers found Boyink after taking best of show at a Christmas trade show in 2014. A scout from "The Great Christmas Light Fight" passed his info to a Shark Tank producer who asked if he'd like to put Geek My Tree on Shark Tank. He did some of the paperwork, but felt he wasn't ready. When the producer called in March of 2015, Boyink decided it was time Shark Tank got geeked! We'll see how his journey ends in episode 712 on Friday night.
My Take on Geek My Tree
In my old home, there was a guy across the street who went ALL OUT with his outdoor Christmas Lighting display. Virtually every square inch of his home and front yard were covered with lights. He even rented a radio station to play Christmas music that synchronized with the display for people watching in their cars. Every hour, from sunset to 11 PM, a new 15 minute "show" would begin. It was quite a spectacle and I am sure he and Boyink would become fast friends.
I am not that ambitious when it comes to outdoor lighting, but we deck out our Christmas tree with lights and TONS of ornaments we've collected, received as gifts, and made over the years. Stringing the lights is always a royal pain in the butt. I like Geek My Tree lights for the simplicity of the installation alone. The animation is a bonus, but it looks very cool. You can program a subdued lighting solution or go wild with colors and patterns. You really have to see what it does to appreciate it. I like this product, for that reason – I AM IN!
Do Sharks Light Up?
In the past, Christmas tree lights haven't fared well in the Shark Tank. The Sharks don't like the seasonality of the product and the work involved getting shelf space is seen as too much of a chore for the return. Geek My Tree could be the exception.
The reason I say this is the product replaces what is otherwise a pretty cheap and disposable one. Most people are familiar with the light strings for $10-$20 that need to be replaced every few years. More expensive, "permanent" Christmas lights with replaceable bulbs are more expensive and cumbersome – plus you still need to buy the bulbs. Geek My Tree uses LED light with over 70,000 hours of life – that's enough to keep the tree lit 24 hours a day for 40 days a year for 72 years.
Geek My Tree lights could be the last Christmas lights you'll ever buy. Couple that with the ease of installation and the stunning visual effects, and it justifies the $400 price tag. I can't imagine the Sharks being anything less than amazed by the product. If Boyink has good margins and there are no skeletons in his business' closet, he should field offers.