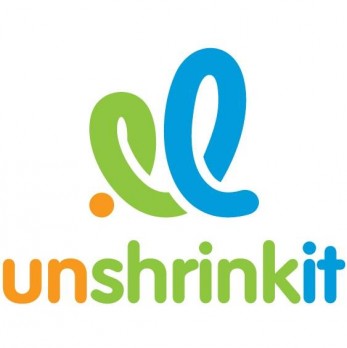 Harvard Business School grads and entrepreneurs Nate Barbera and Desiree Stolar pitch UnShrinkIt, their fix for accidentally shrunken sweaters, in Shark Tank episode 709. The journey to create Un ShrinkIt began with a shrunken sweater. After attempting to unshrink the sweater by stretching and praying, the pair began seeking a scientific solution to the problem and they developed UnShrinkIt.
Basically, the heat from a dryer causes wool fibers to curl up (and stay that way). UnShrinkIt has a patent pending formula that relaxes the curled fibers, allowing them to get gently straightened out. Once the UnShrinkIt solution is rinsed from the wool, the fibers are in their original shape and the sweater is its original size.
The pair claim once they tell their story to someone, they invariably want a bottle for their home – after all, who HASN'T accidentally shrunk a sweater (or two)? The product is currently available at a few retailers and on Amazon. One bottle will set you back twelve bucks, but that's nothing compared to losing a beloved (and expensive) sweater. Nate and Desiree likely want a Shark's help getting major distribution.
Will a Shark unshrink this business and send it toward the big time?
UnShrinkIt Shark Tank Recap
Nate and Desiree enter seeking 150K for 10% to help grow the business. They say they want to talk about a serious problem: SHRINKAGE – in sweaters that is. They demonstrate the product: add UnShrinkIt to a gallon of water, soak for 30 minutes, rinse, reshape and dry. Their process works on all wools. Desiree says she's wearing the sweater that inspired the business with the wool fibers returned to their manufactured length.
Desiree realized when she shrunk her favorite sweater and found no product to help her, she knew there was a market. To date, they sold 5000 units, Nate worked at Johnson and Johnson prior to attending business school – he developed the formula while at Harvard.
He explains the chemistry behind Un shrinkit. It's based on a common chemical compound that they have patented for a specific use.  Daymond says only about 12% of wool products sold will shrink. Nate and Desiree view the product like aspirin – everyone should have it in their home just in case. The company is on track to do $135K in sales this year. It retails for $12-$15 and only costs a dollar to make. The reason they charge so much is both customers and investors felt UnShrinkIt was undervalued at $9.99.
Lori thinks the market is limited, she's out. Robert thinks it's a great idea and in two years he thinks it could do $1.5 million in sales. Mr. Wonderful offers $150K for 33%, Nate counters with $150K for 15%. Mr. Wonderful asks "why would I do that, there's no other offers?"
After a break, Daymond says FUBU never had problem with shrinkage. He wants to license it and offers $150K for 25%, contingent on licensing. Mark says "look, you guys are smart." He offers $150K for 15% and they do the deal!
RESULT: Deal with Mark for $150K for 15%
UnShrinkIt Shark Tank Update
The Shark Tank Blog constantly provides updates and follow-ups about entrepreneurs who have appeared on the Shark Tank TV show. The deal with Mark never closed. Barbera left the company in February, 2016 to go to work for McKinsey & Company. The company was acquired by an "aggregator-operator group" in 2019 for an undisclosed amount. Stollar is now an Executive Vice President of Hill+Knowlton Strategies. The business is still open in July, 2023 . Annual revenue is $2 million.
Posts About UnShrinkIt on Shark Tank Blog
UnShrinkIt Company Information
Video