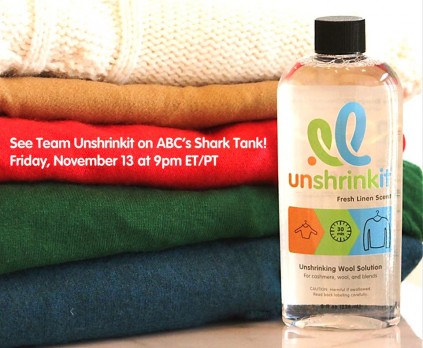 MIT isn't the only school in Boston that churns out cool science stuff as Nate Barbera and Desiree Stolar prove when they pitch UnShrink It in Shark Tank episode 709. The two Harvard MBA grads developed a scientific solution to solve one of life's great problems: the accidentally shrunken sweater.
Anyone who owns a sweater has probably dropped it in the dryer and ruined it; it's a hazard of modern life. It happened to Barbera and Stolar, and they're SMART! There is some science involved: when wool gets heated up in a dryer, the wool fibers curl up – that's what causes the shrinking. Rather than trying to stretch the sweater back out, which ultimately ruins it, you can use UnShrink It. The chemical composition gently uncurls the wool fibers, restoring it to its pre-shrunken state.
The pair started the business in 2014. So far, the product sells in two retail stores and on Amazon. A bottle costs about twelve bucks – cheaper than buying a new sweater. They've sold over 8,000 bottles ($96K in sales) and they're actively seeking wholesale accounts. They probably want a Shark to help them get distribution in grocery and big box stores.
My Take on UnShrink It
Very early on in my relationship with my wife, we didn't have a washing machine or dryer in our apartment. Once a week, she'd take an evening and go visit her parents with our laundry. She'd do the laundry and hang out with her mother – it was a nifty arrangement. When we bought a house, we got a new washer and dryer and she exclaimed "now you can help with the laundry!"
Her glee was short-lived. The first time I did laundry, I shrunk not one, but two of her favorite sweaters. While that mishap had the short-term benefit of not having to do laundry (she wouldn't let me touch it), it caused a certain amount of friction and the episode still comes up from time to time. If only I had UnShrinkIt back then!
Many people can identify with my story, this is why I think they'll find a market for UnShrink It. I am IN.
Will Sharks UnShrink Their Wallets?
$96,000 in sales in the first year of business is nothing to sneeze at, particularly when there's a certain amount of consumer education that comes with your product. Once consumers are aware of what UnShrink It can do, it will probably become a laundry room staple (or an emergency purchase by a distraught husband).
UnShrink It is patented, so it is proprietary; the Sharks will like that. They have sales and they solve a problem, the Sharks will like that too. As long as the company isn't saddled with debt, the fact that Barbera and Stolar are Harvard MBA's shouldn't hurt them! I think they'll field a couple of offers, but they'll do a deal with Robert!