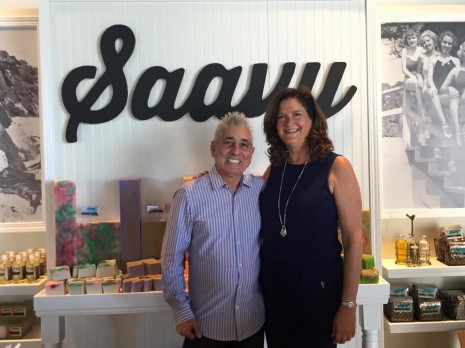 Guest post on the Saavy Naturals deal with Barbara Corcoran – by Dan Casey
The natural soap market is highly competitive. At every farmer's market and natural food store, you see various soap brands in different shapes and colors with discernible specks of herbs. Saavy Naturals believes using food grade, chemical-free ingredients to nourish your body's largest organ is their key differentiator. Having previously built a successful business gives owners Hugo and Debra Saavedra valuable experience, but it also negatively influenced the deal they negotiated.
Saavy Naturals boasts $750,000 in sales within its first year. Without a website, all of these sales grew from leveraging their strong relationships with retailers. With those sales, it's obvious they understand their market and have developed a strong product line. This initial success was funded in part by $400,000 from friends and family. How much equity did those friends and family receive in exchange for their investment? We don't know, but we learn the Saavedra's previously owned a natural soap business where they lost majority ownership. This information is critical because the Sharks now know their weakness. They don't want to repeat the same mistake.
How Saavy were the negotiations?
Let's analyze how Barbara used their fear of losing majority ownership to her advantage in negotiations:
Offer 1: $200,000 for 50% from Barbara (company valuation at $400,000 from initial $2,000,000). She knew they wouldn't feel comfortable giving up 50% equity. When they suggest less, she immediately claims she's out.
Offer 2: $200,000 for 45% from Robert knowing they needed an investor at lower than 50% equity (his offer increases company valuation to $445,000).
Offer 3: Barbara "unexpectedly" jumps back in offering $100,000 for 40% and offers to provide $100,000 in financing of purchase orders. Offer accepted. (her offer drops company valuation to $225,000)
Knowing the Saavedra's fear of giving up equity, Barbara lowered her equity. The key here is she also lowered how much she was investing to $100,000. This dropped their company's valuation to $225,000, which is $175,000 less in valuation from her first offer! Her "add on" offer was $100,000 for purchase orders. Let's not forget, this $100,000 in purchase order financing is NOT an investment, it's a secured loan. When Saavy Naturals gets a purchase order from Whole Foods (an already established customer), Barbara will provide funds upfront so they can get the order produced. It's secured by the credit worthiness of your customer. In this case, Barbara knows Whole Foods is the vendor and presents close to zero risk. By offering PO financing, she's limited her risk to the $100,000 investment. Many lenders provide this type of funding to established and emerging companies, but without taking the equity bite of a Shark.
Once an entrepreneur steps into the Tank, it's all fair play. Whether it's considered manipulative or strategic, Barbara targeted their weakness for her gain. I truly hope her involvement helps take their business to great heights.
Dan Casey, founder and CEO of purchaseorderfinancing.com, believes every business has a story to tell. He's been listening and helping small businesses grow exponentially since 2002 using a creative combination of finance tools. He's been featured in publications including Entrepreneur Magazine, Entrepreneur Online, Small Business Trends Online, The Washington Post, Crain's Chicago Business & American Express Open Forum. 

Visit www.purchaseorderfinancing.com and be sure to mention Shark Tank Blog to get a free subscription to Fast Company or Entrepreneur magazine.*

*Must qualify for financing to receive special offer exclusively for SharkTankBlog.com readers.