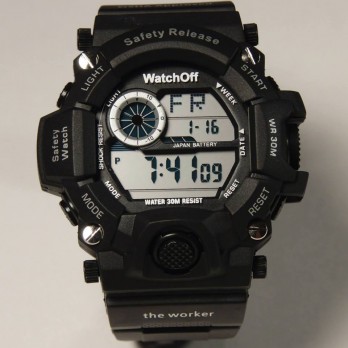 One of the cool things about writing Shark Tank Blog is I get a lot of neat products to review, whether the company was on the show or not. This week, I'm taking a closer look at WatchOff.
WatchOff is a watch designed for people who work. The model I received is called "The Worker," it's good for people in construction, first responders, oil rig workers, maintenance people and more.
First and foremost, it's a very rugged watch. I wore it for a couple of weeks and put it through the ringer. I went swimming with it, banged it around on nearly every surface I encountered, and broke it many times.
Yes, I said I broke it. On purpose! The "secret sauce" to WatchOff isn't the watch itself, per se – it's the band. The watch is very nice and I will continue to wear it for a long time, but it's not unlike many other watches on the market. The band is what makes it special.
Broken WatchOff
I have 7 watches in a drawer that have broken bands. They broke because I caught the band on something and it snapped. I never got them fixed, I jut got a new watch. With WatchOff, if you catch the band on something, it snaps off and it's easily replaced.
Watch this poorly produced review video to get an idea of how it works:
The folks at WatchOff have some dramatic video on their website. They view the snap away band as a safety feature. They're right – you could rip your hand off if your watch gets caught in the wrong piece of machinery!
When Brian, the owner of WatchOff and inventor of the break-away band, asked me for feedback, I asked him if he's tried to license the band technology. It's patented (US Patent #8,978,942 & 7,854,045) and I believe a watch manufacturer out there would want to offer it as a feature. I "broke" the band close to a hundred times over two weeks and it goes right back together easily without losing its effectiveness.
I don't know much about the watch business, but I think licensing the band is the way to go. Please leave a comment whether you agree or disagree.
You can learn more about WatchOff on www.WatchOff.com