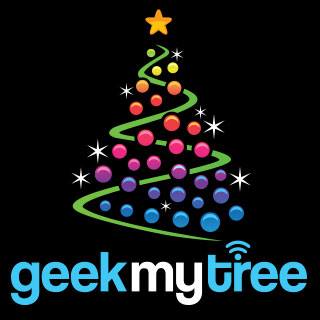 Brad Boyink hopes to light up the Shark Tank with GeekMyTree, his animated glow ball lighting for Christmas trees, in episode 712 – the Shark Tank holiday special. GeekMyTree is designed for standard 6-8 foot Christmas trees. The lights run in straight strands from a ring which fits over the peak of the tree. Each Animated Glow Ball contains two full-spectrum LED lights, providing 360-degrees of illumination in every visible color.
That's not all! The lights can be programmed, via a smart phone app, to synchronize in hundreds of different patterns; they can even be set to synchronize to music. They are the most advanced Christmas lights in the world. Boyink makes a quality product, too – no cheap lights or hardware can be found on a GeekMyTree set.
At $399 for an 80 light set and $599 for a 160 light set, these Christmas lights aren't inexpensive, but the LED components last up to 50,000 hours – much longer than standard Christmas lights. Boyink has plans for lights that include choreographed music, window displays, and light for other holidays in the works. He likely needs a Shark to help with getting into major retailers.
Will a Shark light up when they see the GeekMyTree pitch?
GeekMyTree Shark Tank Recap
Brad enters seeking $225K for 25% of his business. He says he's "modernizing Christmas tree lights by bringing the fun and excitement of an outdoor, animated light display to the indoor Christmas tree. The next step is to offer full musical sequences. GeekMyTree lights are professionally synchronized.
Mark wants to know the cost, when Brad tells him, Kevin says he's seen LED light sets for much less money. Mr. Wonderful thinks it's a problem paying close to $500 for Christmas tree lights. Brad explains they are expensive due to limited production runs: if he goes to a 10,000 unit run, he can lower the cost by 20% and if he makes over 50,000 units, he can drop another 30%.
Barbara thinks it's too expensive, she's out Robert doesn't think people will buy it, he's out. Mark agrees with Robert, he's out. Lori also thinks it's too expensive, she's out. Kevin feels choked by the price, but he still wants in and offers $225K for 50% because he hates stringing Christmas lights. Brad counters with 40% and Mr. Wonderful says no. At 50% he really cares. Brian says, "let's do this!"
It looks like it's going to be a Mr. Wonderful Christmas!
RESULT: DEAL with Kevin for $225K for 50%
GeekMyTree Shark Tank Update
The Shark Tank Blog constantly provides updates and follow-ups about entrepreneurs who have appeared on the Shark Tank TV show. The deal with Kevin closed and the products sold well for a year or two. In 2018, Brad closed the business, blaming "knock-off products, tariffs and patent trolls" for its demise.
Posts About GeekMyTree on Shark Tank Blog
GeekMyTree Company Information
Video