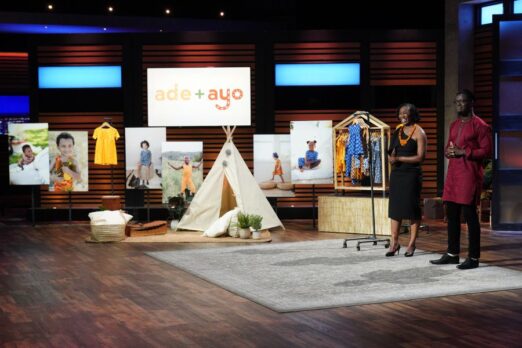 Abisola and Temidayo Adeokun look for a Shark partner for  Ade + Ayo (pronounced Ah-day and Eye-yaw), their line of children's clothes with African prints and patterns, in Shark Tank episode 1317. Temidayo, a Nigerian immigrant mom, created the line when she couldn't find children's clothes with traditional African prints. Ade means "crown" and Ayo means "joy" in the Yoruba language. She started making clothes for her new born son and got positive feedback from people who saw the clothes. She decided to start making them as a side hustle. She's a lawyer by profession, but when the Covid-19 pandemic hit, she was furloughed. That's when she decided to "bet on herself" and start a business in March of 2020.
The clothes allow African American parents a way to teach them about their African heritage and non-African parents a way to teach about a different culture. She sells clothes and accessories for infants and toddlers and there are literally hundreds of dresses, pants, shirts, onesies, toys, bibs and more on the company website. Each pattern has a fairly detailed description of its African origins and what they represent culturally. The business gives a portion of their proceeds to a couple of charitable organizations, too. In the fall and winter, they contribute to Imagine Worldwide, a group that helps marginalized children achieve literacy. The spring and summer proceeds go to Ubongo, an organization that uses multi-platform educational media to help kids reach their full potential.
The clothing itself is very colorful and attractive. Prices vary depending on which of the many products but they are reasonable. For instance, a romper is just $22.50. As of the original air date, they sell only from the company website. The couple likely wants a Shark to help break into retail and manage their many SKU's.
Company Information
Video

Posts about Ade + Ayo on Shark Tank Blog
Ade + Ayo Shark Tank Recap
Abisola and Temidayo enter the Shark Tank seeking $175,000 for 10% of their company. They start dancing and the Sharks dance too. The couple explains they are the first company to bring African prints to cotton fabric. The Sharks examine their samples as the couple explains the varying prints. Lori says they're very soft. The clothing is made from 100% organic cotton. Barbara wishes they came in her size.
Sales for the 11 months they've been in business are $160,000 direct to consumer. Average cost is $6 and they retail for $19. Barbara can't believe the price is so low. They want the clothing to be accessible to the average consumer. The couple explains about their backgrounds. Temidayo was an attorney and Abisola is an engineer who worked at Apple and Amazon. As achild, she saw her parents going from delivering papers to getting degrees and owning businesses.
They want the money for inventory and implementation. They've been living off savings and they believe the company will be a success. Daymond questions the valuation and they say they valued it on the potential.  The Sharks have a discussion about the valuation. Kevin says clothing isn't his thing; he's out. Mark agrees with Kevin and he goes out. Lori doesn't like how they want to use the money; she's out. Daymond says he would insult them with an offer; he's out. Barbara loves the clothing, she thinks they'll grow like gangbusters. She offers $175,000 for 33.3% of the business plus a $500,000 line of credit. They didn't want to go that high. They counter at $200,000 for 30%. Barbara says she'll do $200,000 for 33.3% and they accept.
Ade + Ayo Shark Tank Update
The Shark Tank Blog constantly provides updates and follow-ups about entrepreneurs who have appeared on the Shark Tank TV show. Once an episode has aired, we monitor the progress of the businesses featured, whether they receive funding or not and report on their progress. After taping, it appears they raised prices slightly from $20 to $22.50-$25. The Shark Tank Blog will follow-up on Ade + Ayo & Abisola and Temidayo Adeokun  as more details become available.
On show night, Barbara Tweeted:
Welcome to the family #AdeAndAyo! #SharkTank@ABCSharkTank
The first rerun of this episode in July, 2022 is just 4 months after the original air date. At this time, the deal with Barbara has not closed.