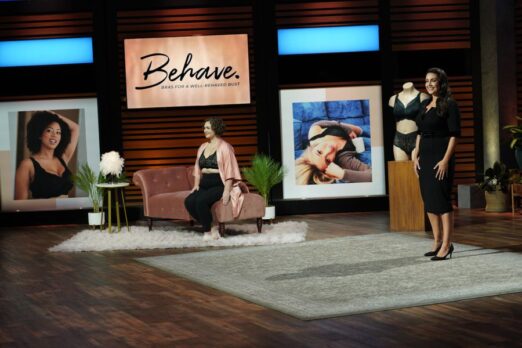 Athena Kasvikis seeks an investment to grow Behave, her line of bras for full figured women, in Shark Tank episode 1317. Athena had big breasts at a young age and could never find bras that gave her full support. This led to back, neck and shoulder pain.  She got her start in branding at Proctor and Gamble and went on to several marketing positions until 2017. That's when she started developing Behave bras. She was sick and tired of bra companies ignoring her and the other 50 million women in the US that have a bra size above a DD cup. After a few years  finding the right design, she officially launched in early 2020.
The secret sauce of the bras is her Stayz technology. They're made of a  stretch fabric that give the support of a wired bra without the wire. As she says on her website:  "They give our bras underwire support without the torture of underwires. The stretch of a sports bra without the uniboob. The comfort of a your favorite loungewear with the look of your sexiest lingerie."
They come in sizes 30DD to a 38I and there's a sizing chart on the company website. The bras cost $75 each and come in a variety of colors and patterns. Athena plans on launching more designs and colors in 2022. As she says, she has "big things planned for big busts." We'll see if those plans include a Shark.
Company Information
Video

Posts about Behave on Shark Tank Blog
Behave Bras for Full Figured Women
Behave Shark Tank Recap
Athena enters seeking $150,000 for 15% of her company. She goes on to tell her story and how she came to invent her bras and how she had to wear three sports bras while playing soccer. She talks about how she came to invent the bras and demonstrates how they work. The stays are what keeps the "girls" in place. As the Sharks examine their samples, Lori gets clarification on how the stays work. Kevin asks about sizing. Athena says DD bras are the size most women wear over other sizes.
Daymond asks about wires and she says wires are uncomfortable. Barbara asks if she has the new wire. Athena says her family has either an A or a DD cup. She also talks about her time at Proctor and Gamble and at start-ups. The company launched in 2020 and has $110,000 in 18 months. Margins are 87% on the bras and 83% on the panties. Bras cost $75 direct to consumer. She claims she doesn't get a lot of returns and has a 12% return rate (industry average is 20%).
Kevin wants to know if she'll stay with the direct to consumer model; the answer is "yes." The bras are patent pending and she says she'll have the patent in two weeks. Kevin says he's impressed and wants to be a part of "keeping breasts behaved." He offers $150,000 for 20%. The Sharks can't believe Kevin's offer. She counters with $150,000 for 17%. She's lived off savings for two years and moved back in with her mother. Kevin sticks to 20% and she takes his offer.
Behave Shark Tank Update
The Shark Tank Blog constantly provides updates and follow-ups about entrepreneurs who have appeared on the Shark Tank TV show. In the week following the original air date, Athena had an 8000 bra backlog of orders. As of March, 2022, the deal with Kevin has not closed. Athena told Boston Inno she was "exploring a different structure that would allow her to retain more equity for future growth." As of October, 2022, the deal has still not closed, which means it probably never will.
Athena appears fairly regularly on QVC hawking her bras. She also added panties to her line. As of August, 2023 annual revenue for this business is $1 million.
The Shark Tank Blog will follow-up on Behave & Athena Kasvikis as more details become available.