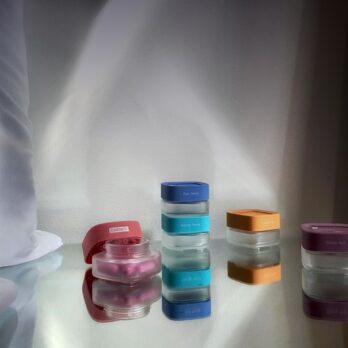 Russell Gong and Achal Patel started Cabinet to combat the single use plastics problem in the pharmaceutical industry. 90% of plastic prescription bottles end up NOT getting recycled and they break down into microplastics. The average human being consumes 5 grams of microplastics per week. That's like eating a credit card! Yuck!
Their solution is Cabinet, a drug company that has reusable, recyclable, glass bottles to store your over the counter drugs and prescriptions. The drugs are mailed in cellulose pouches that will completely decompose in a landfill or compost heap. Their mission is to create a more sustainable medicine system by using sustainable supply chains and removing more plastic from the waste stream than they use.
As for the business end of things, you go on their site and order your over the counter drugs. If you have a prescription, you need to transfer it to their pharmacy. They'll send you your bottle and your pills in a pouch. They're still in the early stages and had a lot of legal and regulatory hoops to jump through. While they don't take insurance – yet (they're working on it), they claim the cost of their products is cheaper than most co-pays. They probably need a Shark's capital to fuel their growth.
My Take on Cabinet
I take a couple prescriptions and some over the counter pills daily. The prescriptions are no cost with my insurance. I would use this service if and when my insurance is accepted. I like the sustainability angle and the convenience of getting my drugs in the mail. Our insurance company used to use a mail order option, but they discontinued it. Even though CVS will deliver to me, I usually combine my prescription pick up with other errands to save time.
Once they accept insurance and if their prices are cheaper than most co-pays, I think this company will take off. They'll probably be acquired by a big health care company once they've built the business up. This is a company to watch.
Will Sharks Prescribe to this Opportunity?
I think this pitch will be problematic for the Sharks. I'm sure they'll like the idea and business model, but I think this business is pre-revenue. They also have other investors to the tune of $23.6 million. $17 million came just a few weeks before the original air date. That tells me that either they got no deal or they got one and it didn't go through.
The other problem is the elephant in the room, Mark Cuban's Cost Plus Drugs. Mark started the low-cost, transparent priced company in January, 2022 to disrupt the way pharmaceuticals were sold in the USA. This was just 6-8 months before this segment taped. You can bet dollars to doughnuts Mark won't invest. The other issues mentioned above will likely mean there is no deal done here tonight, unless Tony Xu bids. Ultimately, this deal – if doe – won't close anyway.