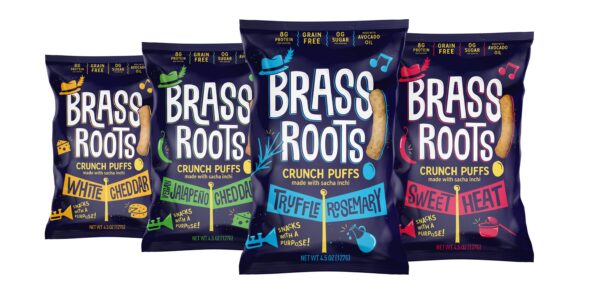 Aaron Gailmor named his company Brass Roots Food as a nod to his New Orleans heritage. His dad was a music teacher for years in New Orleans and believed his role was not to just teach music but to empower the kids he taught. Aaron feels the same way about his business and he gives 2% of profits back to the community through a variety of organizations. His dad also led him to discovering the Sacha Inchi seed. After his father suffered a heart attack, he "discovered" Sacha Inchi seeds are a good way to provide protein and fiber without any other added ingredients.
The Sacha Inchi seed comes from the Sacha Inchi fruit – a star shaped fruit native to various parts of South America. It's sometimes referred to as the Incan peanut. They're a great source of plant-based protein, fiber, and omega-3 fatty acids. Aaron makes a variety of products from the seeds for Brass Roots Foods: Sacha Inchi butter, crunchy puffs and roasted seeds.
The company sources their seeds from farms in Thailand and Laos. Aarons farming partner, Chan, is a friend of his with an interesting story. He was a Viet Nam War refugee who came to the USA at age 13. After growing up and getting an education, he returned to Asia to farm Sacha Inchi there. Chan uses his proceeds to fund educational ventures. He set up a K-12 school and a University to educate the local youths. Chan and Brass Roots Food are also employing many farmers, providing them with needed income in a relatively impoverished area. The best part is the fruit doesn't use a lot of well water as it grows in a wet region. Aaron likely wants a Shark to help him get distribution beyond Sprouts, Whole Foods and Wegman's.
My Take on Brass Roots Food
I usually try out foods that appear in the Tank and I will try Brass Roots Food. I'll share my thought on it on the Brass Roots page in the "update" section when I do. I usually order from Amazon because the "Shark Tank Effect" often buries businesses with orders in the show's aftermath.
I've actually had the seeds before and I like them. I'm very interested in the puffs though. I like snacking on crunchy stuff but I want to have a healthy snack. I buy Snacklins and Just the Cheese a lot for that reason. I'm sure I'll be buying there too. I see from the company's store locater I can pick them up locally too. I'm in.
Will Sharks Bite on These Snacks?
This is one of three South American based products appearing on tonight's show. It's interesting because Daniel Lubetzky is a guest Shark. While the business is based in New Orleans, the Sacha Inchi fruit originally comes from Peru. Will the cultural background influence Daniel? Perhaps.
Mr. Wonderful hates the grocery space, so I think he's out early. Likewise for Lori, she's shied away from food products the past few seasons. Daymond is a crap shoot lately, so I'm not sure about him. That leaves Mark and Daniel. Both Sharks invested in multiple food products. When a snack like this comes into the Tank, Mark goes straight to the nutrition label. If the ask is right, he'll make an offer. Daniel could too or maybe he and Mark team up on an offer.