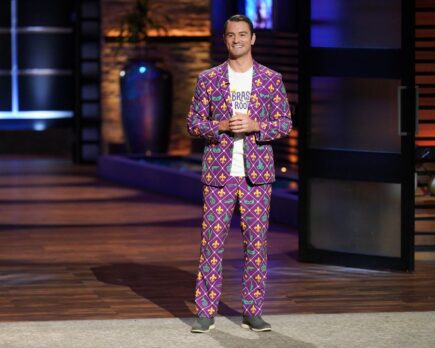 Aaron Gailmor gives the Sharks a taste of Brass Roots, his line of snacks made from organic Sacha Inchi seeds in Shark Tank episode 1412. Sacha Inchi is a small, star shaped fruit grown for its seeds. The seeds are rich in protein, fiber, and heart healthy fats and contain phosphorus, potassium, magnesium, calcium, and zinc. They're also loaded with antioxidants. Gilmore "discovered" Sacha Inchi after his dad suffered a heart attack in 2019. He was looking for heart healthy foods when he stumbled on Sacha Inchi.
The company name Brass Roots comes from Gailmor's New Orleans based heritage. The New Orleans based business started in 2020 and saw 100% quarterly growth in its first year. In March, 2021, the company got a $1 million investment from John B Sanfilippo & Son, Inc, one of the largest nut processors in the world. This cash was used to roll out the product in 400 Sprouts Markets. They Later got product into Whole Foods and Wegman's.
Brass Roots sells three products: Sacha Inchi Butter, Crunch Puffs and Roasted Sacha Inchi Seeds. The Puffs come in three flavors: jalapeno cheddar, white cheddar and rosemary truffle. A box of six 4.5 ounce puffs costs $17.99 on Amazon. The company sources its nuts from partner farms in Thailand and Laos. They also partner with the Mercy Foundation to fund schools in the communities where their farms are located. Gailmore likely wants a Shark's help growing its distribution.
Company Information
Video

Posts about Brass Roots on Shark Tank Blog
Brass Roots Shark Tank Recap
Aaron enters with a brass band playing "When the SaintGo Marching In" and he's singing about his product as he throws beads to the Sharks. He's seeking $400,000 for 7% of his company. He begins by talking about how there's been a rise in peanut allergies in recent years. Many schools ban peanuts and peanut butter. Next, he introduces the Sacha Inchi seed. It's school, pantry and airline safe. The seeds are healthier than almonds. His products include seeds, seed butter, snack bars and puffs.
The Sharks taste their samples. The Sharks like them. Aaron says he moved to New Orleans 8 years ago. In 2010 his father was diagnosed with heart disease and Aaron took an interest in nutrition. Louisiana has a lot of health issues with its population and he wanted to incorporate wellnes and nutrition into the brand. He helps kids learn about nutrition. Prior to founding Brass Roots, he worked at Citi  Group as an investment banker. Then he founded Super Eats, a kale chip company, and it was failing. This is when he discovered the Sacha Inci seed. Aaron bought his partner out and decided to rebrand to Brass Roots.
In 2019, he had $35,000 in sales. In 2021 he did $250,000 and in 2021 he did $500,000. So far in 2022 he projects $1.5 million. They aren't profitable and they're burning $20,000-$30,000 per month. He only has $100,000 in the bank. Mr. Wonderful says he's going to run out of cash. The lightly salted seeds are the best seller. A bag costs $4.50-$5 and sells for $17.99, Daymond thinks it's a lot of money and Aaron says they're cheaper than organic almonds. To date, he's raised $1.7 million at $5 million valuation. Aaron owns 33% of the company.
Kevin says Aaron buedened him with his past financial sins; he's out. Mark thinks there will need to be a lot of education and the margins are too small; he's out. Daymond likes Aaron and what he does in the community, but there's no meat on the bone; he's out. Lori thinks it's an interesting product, but she doesn't know enough about it; she's out. Daniel doesn't think it's investable, he's out.
Brass Roots Shark Tank Update
The Shark Tank Blog constantly provides updates and follow-ups about entrepreneurs who have appeared on the Shark Tank TV show. As of March, 2023, the company is still in business, so they have not run out of cash. By June, 2023, they have their products on the shelves at Whole Foods, Sprouts and Erewhon stores.
The Shark Tank Blog will follow-up on Brass Roots & Aaron Gailmor as more details become available.
****Editor's note: I tried the seeds and I really liked them.******