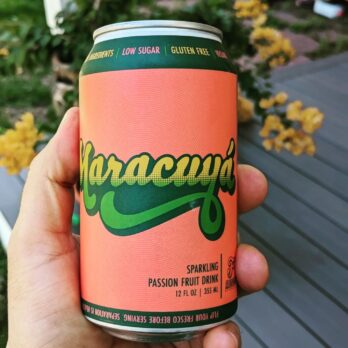 Juan Stewart started making his Frescos Naturale drinks in early 2021. It's a carbonated version of a drink he grew up on called aguas frescas which is made from fresh fruit, lime juice, water, a sweetener and, sometimes, fresh herbs. His son likes them too and suggested Juan "bottle this stuff." After testing the market at local farmer's markets, Juan set out to build a brand out of the Central and South American beverage.
When made in the traditional way, aguas frescas aren't carbonated. That's what makes Frescos Naturale different. And at only 50-80 calories per can, they're a nice alternative to soda. The packaging gives a nod to Juan's Guatemalan culture: the labels are written big, bright letters in Spanish with the English translation in smaller print. Things took off for the brand when it won Naturally Boulder's 17th Annual Pitch Slam Contest in October, 2021. In September, 2022, he won the Natural Products Expo East Pitch Slam's Audience Choice award at the Philadelphia Convention Center.
Juan used his own funds to start the business using proceeds from Green Belly, his Guatemalan hot sauce business he's been running since 2014. As for the drinks, Frescos Naturale comes in six flavors: Guayaba – Sparkling Guava Drink, Mango – Sparkling Mango Drink, Maracuya – Sparkling Passion Fruit Drink, Pina – Sparkling Pineapple Drink, Rosa de Jamaica – Sparkling Hibiscus Drink and Tamarindo – Sparkling Tamarind Drink. At a little over $3 per can, it's more expensive than soda, but it's totally different. Juan likely wants a Shark to spread distribution beyond the greater Boulder, CO area.
My Take on Frescos Naturale
I've tried aguas frescas before. An old girlfriend of mine's mother used to make it, but without carbonation. It's good! Minute Maid also makes aguas frescas – again non carbonated.  I'm sure the carbonation lightens it up even more. I can't wait to try it, but it will need to be in stores near me. Beverages are too expensive to ship and it really adds to the cost.
If Juan can get this out to the masses, I predict it will do well. Everyone I know looks for soda alternatives all the time. There have been many soda alternatives on Shark Tank – some get deals, others don't. Poppi, a vinegar based "soda" did a deal with Rohan Oza in season 10 and Rohan believes they'll be Shark Tank's first billion dollar company. Juan would like to have that kind of success!
Will Sharks Drink Up and Invest?
This product is one of three Central/South American products in the Tank tonight. Obviously, Daniel Lubetzky would be a good partner for any of them – particularly the food and beverage products. Mr. Wonderful hates this space and will be out. Lori is likely to follow. That leaves Daymond, Mark and the aforementioned Daniel.
Mark has done beverage deals before as has Daniel (though not on Shark Tank). Daymond has done beverage deals too, but not in many years. If Juan can get one of these Sharks to make an offer, he should take the deal.