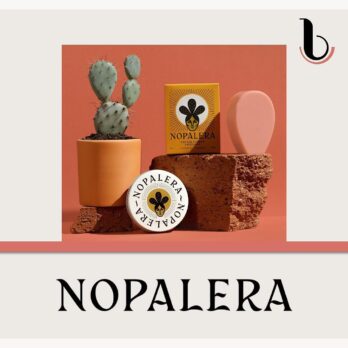 Sandra Velasquez created her Nopalera Soap and skincare products after two things happened: she took a soap making class and she went home to her mother's house and was served eggs and nopal cactus for breakfast. The nopal cactus, or prickly pear cactus, is a big part of Mexican culture. It grows wild all over Mexico, Central America and the Southwestern USA and it's been used as food going back to the Aztec times. While Sandra was eating her eggs and Nopal that day, she had an "AH HA moment" and decided she would make her soap and skin care products from the cactus.
She also wanted to celebrate her Mexican culture through both the products and packaging. The name Nopalera is derived from the cactus. All her Nopalera Soap bars are shaped like cacti and her packaging, as she says,"celebrates my culture. Loud and proud. No apologies." She uses the whole cactus in her products: the oil from the seeds, the skin and the pulp. In addition to the cactus soap, she has exfoliant scrubs, moisturizing soaps and more. Everything is vegan and made with clean ingredients.
She's had a lot of successes in her little more than two year old business. She won an award for Latino startup of the year in 2022. The products are well received too. Currently, she has product in over 600 mom and pop boutiques in the southwestern USA and she launched in Nordstrom's in March, 2022. She likely wants a Shark's help getting more retail distribution.
My Take on Nopalera Soap
I'm not the type to go crazy over fancy soap. When we visit Tarpon Springs in Florida (the sponge capital of the world), my wife and I go into a little shop that sells olive oil and Shea butter soaps. They're infused with a sponge and my wife loves them. We always go home with a half a dozen bars (and a belly full of yummy Greek food). That said, she's the one who likes the soap, not me.
I showed her this business and she looked at the website a bit and found it interesting. She wondered if we could make our own cactus soap – we have a bunch of prickly pear cacti in our front yard. I said it would probably be easier just to buy a bar of soap. Mother's day is coming up in a few months. She'll be getting some of this!
Will Sharks Scrub Up a Deal?
I don't think Sandra gets a deal here or if she does it doesn't close and I'll tell you why. As the third Central/South American themed company on the show tonight it would be easy to say Daniel Lubetzky would make an offer. Unfortunately, his expertise is in building food brands, though he has ventured away from that from time to time.
Mark won't make an offer for the same reason I won't use it: he's a guy. Kevin will think the market is too crowded. Likewise for Daymond. That leaves Lori and Daniel. Either one could make an offer – or not. The thing that makes me think there's no deal or an unclosed one is that Nopalera Soap and Sandra got $2.7 million in seed funding in October, 2022. That was several months after she taped this segment. That tells me the deal went south or wasn't done at all.