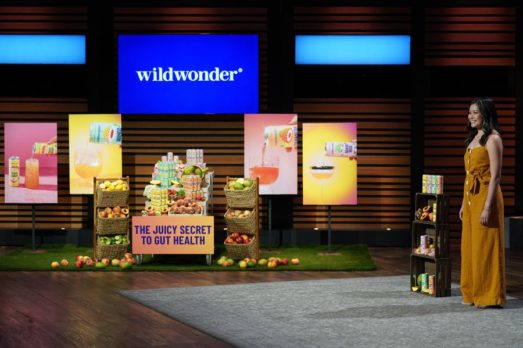 Rosa Li gives the Sharks a taste of Wildwonder, her pre and probiotic drink line, in Shark Tank episode 1411. This is the second entrepreneurial venture for the Stanford Business School graduate. The first was Rosali Tea, an artisanal tea business she ran from 2015 – 2017. She started Wildwonder in 2018 and officially launched in 2020. The drinks are sparking and include vegan probiotics, prebiotic plant fiber and super herbs. As she likes to say : "think Kombucha benefits without the vinegary taste or refined sugar."
The inspiration for the drinks came from her Chinese grandmother who was always concocting tonics with wild herbs and botanicals. Originally, she called the business Tea Crush, but rebranded to Wildwonder in 2020. Flavors include Mango Gold, Strawberry Passion, Peach Ginger, Pear Turmeric, Lemon Ginger and Guava Rose. All flavors promote good guy health and they cost $42 for a 12 pack – 12% less if you opt for the subscription option. They're a company with a conscience too: 5% of their profits go towards empowering women and marginalized communities.
In September, 2021, the company raised in seed funding. The brand was initially distributed in southern California, but the seed funding allowed Rosa to expand. In 2022, you can buy the beverages at over 800 Sprouts and Farmers Market stores nationwide or on Amazon. 2023 will see the brand roll out in The Fresh Market, Fresh Thyme Market , Erewhon, Jimbo's Natural Family, Mother's Market & Kitchen, Lassens Natural Foods & Vitamins, LLC, Bristol Farms, Market of Choice and  Whole Foods Markets .Rosa likely wants a Shark's help with inventory and further expanding retail distribution.
Company Information
Video

Posts about Wildwonder on Shark Tank Blog
Wild Wonder – Pre and Pro Biotic Drinks
Wildwonder Shark Tank Recap
Rosa enters the Tannk and tells the Sharks that her grandma gave her the idea of food as medicine at an early age. She brewed healing tonics that were good for Rosa's health. Rosa worked stressful jobs and felt it in her body, especially in her gut. That's when she brewed up Wildwonder. She pops open a can and starts describing the flavors. She tells the Sharks she's seeking $500,000 for 5% of her business.
The Sharks taste their samples.  Every can has 5 grams of prebiotiic fiber. Rosa wants to expand the market for people who drink kombucha but don't like the fermented taste and as a healthy alternative to soda. Each can has 35 caloories – 90% less sugar than soda and 50% less sugar than kombucha.
At this pouint, Tony Xu ass Rosa if they went to school together and Rosa thanks him for remembering. Next, she talks about growing up in China. Her grandparents raised her until she was 12 while her parents immigrated to the USA. When Rosa came to the USA at age 12, she didn't know any English and in 3 years she was on the debate team at school. As a college sophmore, she secured a finance internship at Goldman Sachs. She worked there after college in vventure capital and she tells the Sharks she knows how to get them a return on their dollar.
She launched the business in 2020 and had large purchase orders going to companies like Google and Facebook, the Covid happened. This wiped out her entire revenue stream. She went out and in 2 months knocked on doors at over 200 grocery stores and got into over 100 of tem including her region of Whole Foods.
Let's Talk Numbers
Mr. Wonderful questions her $10 million valuation. He says 100 stores is nothing in the beverage industry. Year to date (summer 2022) she's generated $1.1 million in revenue but they aren't profitable. She'll have a major announcement in the next 30 days. Right now, she's focused on growing gross margins. Each can costs 90 cents to make retails for $3.49 but by the end of the year she can get costs down to 70 cents. She raised $2.1 million in 2021 and has investors putting in money now for future equity.
Kevin doesn't like the valuation and he goes out. Lori says the risk doessn't match the reward; she's out. Mark likes the drinks  but at such a small percentage, he can't see the upside; he's out. Barbara has lost money on two beverage deals; she's out. Tony offers $500,000 for 9%. Rosa counters with $500,000 for 6% and 3% advisory shares. Tony agrees and they do the deal.
Wildwonder Shark Tank Update
The Shark Tank Blog constantly provides updates and follow-ups about entrepreneurs who have appeared on the Shark Tank TV show. Shark Tank fans accused this of being a "fake pitch" since Tony and Rosa knew each other previously. In the aftermath of the original air date, Rosa sold a TON of drinks. The products are in over 1300 Sprouts and Fresh Markets nationwide and Rosa is making inroads at other grocery stores. The evidence out there indicates that the deal with Tony did close. As of May, 2023, there is no reliable revenue information.
The Shark Tank Blog will follow-up on Wildwonder & Rosa Li as more details become available.