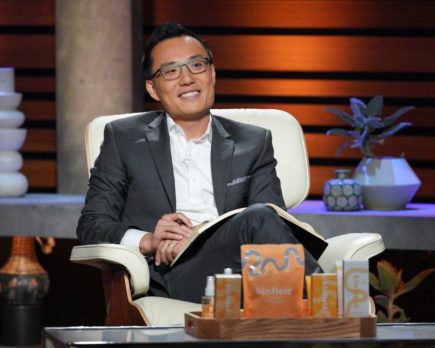 Tony Xu makes his first appearance as a "guest Shark" in Shark Tank episode 1411. He'll join Mark, Barbara, Kevin and Lori in evaluating four new businesses seeking a Shark's cash and business advice. Will Gwyneth or the other Sharks take a swim in the Tank tonight?
Nichole Powell hopes to get an investment for Kinfield, her line of sustainable skin care products for outdoor enthusiasts that are plant based and chemical free. MT Strickland, Braxton Davis and Ecleamus Ricks pitch Metric Mate, their technology that analyzes workout data by turning exercise equipment into "SMART" equipment. Rosa Li promotes Wildwonder, sparkling beverages with vegan pre biotics and probiotic fibers to promote gut health. Russell Gong and Achal Patel seek an investment in Cabinet Health, their direct to consumer pharmaceuticals business with a mission to reduce single use plastics. Which business catches a Shark tonight?
Usually, when a "guest Shark" makes their first appearance in the Tank, we get a background segment on them. Expect that tonight.
Entrepreneurs
---
Update Segment – Tony Xu Background Segment
There are 26  Shark Tank Episodes for Season 14. This season features the six "regular" Sharks: Mark, Daymond Kevin, Lori, Barbara and Robert. There are two new guest Sharks for season 14: Actress Gwyneth Paltrow and Door Dash founder Tony Xu. Returning "recurring" Sharks are Emma Grede, Peter Jones, Kendra Scott and Daniel Lubetzky. Casting is currently closed, but it never hurts to get a head start on season fifteen! If you would like to appear on the show, check out our Auditions and Casting information.
Episode 1411 – The Shark Investors and Entrepreneurs
The Shark Tank Episode 1411 entrepreneurs will make their best pitch to the panel of five Shark investors who will use their own money if they choose to invest. The Shark Investors negotiate on the spot without any previous information, which differs from typical negotiations between venture capital investors and entrepreneurial start-ups.
Companies pitching the Shark Investors must go through a rigorous due diligence process before an on-air deal is completed. Shark Tank Blog follow ups help you keep track of the companies that end up successful and the ones that don't complete their deal.
Thank you for reading SharkTankBlog, the number one site for Entrepreneurs, Investors and Fans. Our content updates multiple times day, giving you the latest information on Episode 1411, Season 14, and all other seasons and episodes.
Episode 1411 Press Release
"Episode 1411" – Tony Xu, DoorDash CEO and co-founder of the largest food delivery service in America, makes his first appearance in the Tank as a guest Shark. First into the Tank is an entrepreneur from San Francisco who presents her clean beauty brand alternative aimed at protecting you while in the great outdoors. Entrepreneurs from Atlanta introduce their innovative technology designed to help maximize your workout and progress at the gym, while an entrepreneur from San Francisco trusts her gut and hopes the Sharks do too with her modern twist on a traditional healthy beverage. Last into the Tank are entrepreneurs from New York City who want to make a dent in the growing plastic waste problem with their sustainable health care product line on an all-new episode of "Shark Tank," airing FRIDAY, JAN. 13 (8:00-9:01 p.m. EST), on ABC. (TV-PG, L) Watch episodes on demand and on Hulu the day following the premiere.
The Sharks in this episode are Mark Cuban, Barbara Corcoran, Kevin O'Leary, Lori Greiner and guest Shark Tony Xu.