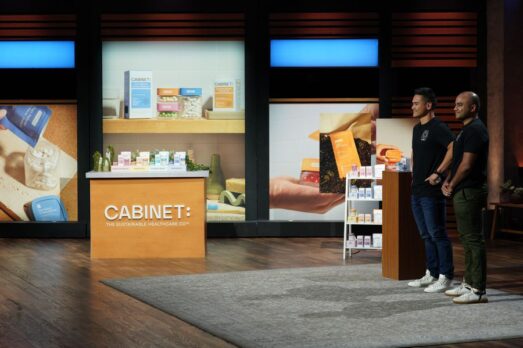 Russell Gong and Achal Patel seek a Shark investor for Cabinet Health, their sustainable pharmaceuticals company, in Shark Tank episode 1411. The pair founded the company in 2019 to address the huge single use plastics problem in the pharmaceutical and health care industries. The guys have a background in medicine and sustainable product development and they used it to develop a refillable and compostable medicine packaging system. They're also a Certified B Corporation.
The company is pretty straightforward. You order over the counter and/or prescription drugs through their online  pharmacy. You receive a reusable, glass medicine container and you get your pills in a sustainably produced, compostable pouch. This, they hope, will reduce single use plastic waste by billions of containers. They also sustainably source their packaging and remove more plastic from the waste stream than they produce.
The company is no stranger to talking to investors. In December, 2022, they raised $17 million in debt and equity funding to fuel expansion into prescriptions and retail channels. This was announced just a few weeks before their original air date and brings their total venture funding to $23.6 million. Cabinet Health is likely pre-revenue or burning cash, they probably want a Shark's help getting to profitability.
Company Information
Video

Posts about Cabinet Health on Shark Tank Blog
Cabinet – The Sustainable Healthcare Company
Cabinet Health Shark Tank Recap
Russell and Achal enter the Shark Tank and tell the Sharks the medicine industry produces 190 billion single use medicine bottles per year. Lined up, they'd make a line from Los Angeles to Australia 325 times. Only 3%-7% get recycled. Russel holds up a jar of microplastics and indicates that it is the amount a human ingests in a year. It's the same as eating a credit card every week! They say their company has the first compostable system and they sell a line of over the counter drugs in their packaging. They're seeking $500,000 for 2.5% equity in their company. The Sharks chuckle sarcastically under their breath.
They introduce the Sharks to their samples. They show them their space efficient, refillable and stackable bottles. Next, they show them the compostable pouches the pills come in. They provide over the counter medications for less and they have more pills per package. Consumers save 20%-30% with their system. Kevin asks if sustainability is what they're selling and Russel says they have 700,000 customers.
Achal explains he's a third generation medical entrepreneur. His grandfather built one of the first acetaminophen factories 60 years ago.  He literally grew up in the business. His professional career involved Healthcare strategy and supply chain consulting – he was literally born to build this business. Russel is a sustainable products expert and a member of the Army National Guard in Connecticut. He first worked on a state and federal level on environmental policy then moved to the private sector at DeLoitte consulting.
What's the Numbers?
At this point, Kevin wants them to justify their valuation. Achal says they'll do $14 million this year (2022). They're profitable on a per unit basis but they're investing heavily into R&D. They are negative 20% in profit this year and will break even in the second half of 2023. The reason they're negative is they are investing $2.5 million into R&D. Mark calls "BS" on their R&D for their products because they are commodity items and Achal says they still need regulatory aproval because of their packaging. Every product needs FDA approval.
Barbara says she'd need to wait too long to get her money back; she's out. Tony wants to know what they'll do in the next 12 months. Achal is projecting $25 million with negative 10% profits. He says they'll be profitable in October, 2023. So far they've raised $13 million at an $81 million valuation/ Achal says the deal he's offering the Sharks is four times better than that.
Mark appreciates what they're doing, but things don't add up for him; he's out. Kevin believes in sustainability as a motivation to purchase, he's invested in Blueland, a sustainable cleaning products company from season 11. Kevin offers $500,000 for 12.5%. Tony then says he believes in sustainability and offers $500,000 for 10%. He says he brings the ability to scale quickly to the table. Lori says she likes the sustainability but not the valuation; she's out.
Achal asks if Kevin and  Tony would entertain a deal where they came in together. He offers the Sharks 3.5% each for $500,000 and a 2% royalty until they get their money back. Kevin counters with the royalty until they get twice their money back and Russel and Achal accept.
Cabinet Health Shark Tank Update
The Shark Tank Blog constantly provides updates and follow-ups about entrepreneurs who have appeared on the Shark Tank TV show. As of the first re-run date in June, 2023 (about six months after the original air date), the deal with the Sharks has not closed. The company is beta testing a prescription drug service with around 100 customers. At this time, they are doing around $25 million in annual revenue. By August, 2023, the OTC products are available in over 700 CVS stores.
The Shark Tank Blog will follow-up on Cabinet Health & Russell Gong and Achal Patel as more details become available.