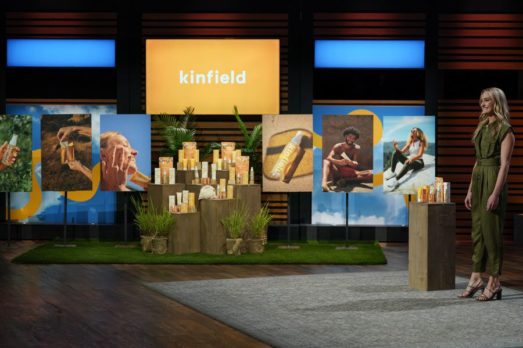 Nichole Powell pitches Kinfield, her plant based skin care products for outdoorsy types, in Shark Tank episode 1411. The flagship product is Golden Hour, a DEET-free mosquito repellant that contains a special strain of citronella oil and other natural ingredients. Prolonged exposure to DEET (short for N,N-diethyl-meta-toluamide) can cause some pretty serious side effects like confusion, lethargic behavior and even brain cell death. Nicole didn't want that kind of stuff on her body, so she set out to create a company that could provide protection while outdoors without harsh chemicals.
Prior to starting Kinfield, Nicole was business development at online retailer Modern Citizen. She left that company in 2018 to begin raising money for Kinfield. In addition to their best selling mosquito repellant, the company offers anti itch balm, sunscreen, lip balm, face masks, recovery creams and sprays and more. All products are plant based and contain no harmful chemicals.
The company also has a sustainability mission. They use recycled materials in their packaging and shipping, use plastic alternatives wherever possible and even offer their own recycling program. If you send them your old product packaging, they'll give you 40% off your next order. Kinfield is also one of the many Shark Tank companies that gives to 1% for the Planet, an organization that donates to a wide variety of environment causes. Nicole only sells direct to consumer for now, but she believes retail is in the company's future. A Shark could definitely help with that.
Company Information
Video

Posts about Kinfield on Shark Tank Blog
Kin Field: Clean Functional Skincare
Kinfield Shark Tank Recap
Nichole enters the Shark Tank seeking $250,000 for 5% of her company. She says she's from Minnesota where the mosquito is the state bird. Whennever she went outside as a kid, her parents would cover her and her brother in mosquito repellent and greasy sunscreen. Years later, she was still using the chemical laden and environmentally unfriendly products which is why she created Kinfield – eco-friendly bug sprays and sunscreen. Her first product was After Hours, a bug spray made from citronella, lemongrass and vanilla. Since then she's created repellent wipes, recovery products and a line of sunscreen.
The Sharks examine their samples. Barbara likes the smell of the bug spray. Nichole had the bug spray tested by an independent lab which found the spray protects you for 3 hours. She found the strain of citronella for the bug repellent in Indonesia. She launched in the summer of 2019 and did $5,000 in sales. In 2020, she did $187,000 in sales and in 2021 she did $565,000 and midway through 2022 she's at $1.5 million and on track to finish the year at $2.1 million. She hasn't made any money yet and all sales are direct to consumer. She's positioned to be profitable in "about a year and a half."
Customer acquisition costs are $26 and the products sell at a 75%-80% margin. The Golden Hours costs $4.53 to make and it sells for $22. The sunscreen costs $5.04 to make and sells for $34. The average order from the website is $45. 80% of sales are online and Nichole believes retail is important to build a healthy business. Retail is important for last minute purchases.
Is anybody in?
Mark asks if she'll lose money in retail and Nichole  says "not neccessarily." Mark says she'll need to raise a lot more money to go into retail. Mark goes out. Barbara offers $250,000 for 10% and a $2 royalty on each product sold until she's paid back. Kevin offers $250,000 for 5% plus a $1.50 royalty until he recoups $750,000. Lori touts her success with Bug Bite Thing, a business she invested in during season 11. That product has over $25 million in sales in two years and is in 30,000 stores. She offers $250,000 for 5% plus a $4 per unit royalty until she gets her money back.
After a break, Tony says he's going to ad another offer into the mix. He offers $250,000 for 10% with no royalty. Barbara offers to match it. Nichole asks if Barbara and Tony would do $125,000 each for 5% each. Lori goes out. Tony and Barbara team up to do the deal Nichole presented.
Kinfield Shark Tank Update
The Shark Tank Blog constantly provides updates and follow-ups about entrepreneurs who have appeared on the Shark Tank TV show. After the show aired, Nichole revealed in a blog post that she was originally asked by a producer to try out in January, 2022. The email was lost in her junk folder and she replied to it seven months later! Luckiily, she was still able to appear. As of the first re-run date in June, 2023, the deal with Tony and Barbara appears to have closed. Reliable revenue figures are unavailable at this time.
The Shark Tank Blog will follow-up on Kinfield & Nichole Powell as more details become available.