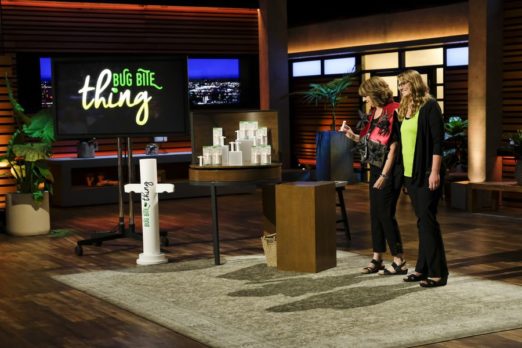 Ellen McAlister and Kelley Higney want the Sharks to invest in their Bug Bite Thing, a device that sucks out poison from a bug bite, in Shark Tank episode 1105. Higney moved to Florida in 2013 was not prepared for the ferocity of Florida's mosquitoes. They tortured her and her daughters. She tried every cream and home remedy in the book, but nothing eased the itching and pain of a bug bite. Higney was determined to find a solution and she searched far and wide until she did.
She came across the Bug Bite Thing online. It was originally invented by a doctor in Europe about 20 years ago. That doctor sold the rights to the device to a distributor in Denmark. Higney cut a deal with the distributor who manufactures the product and ships it to her warehouse in Jacksonville, Florida. She brands it and sells it as the Bug Bite Thing.
The device is like a reverse syringe that simply sucks out the poison from a mosquito, wasp or red ant bite. With the poison gone, there's no itching or nasty welts. It has no chemicals and can be reused over and over again. Higney, who says she's from a "long line of women entrepreneurs," started the business in 2017. Initially selling and shipping out of her garage, she's now selling in CVS and is expanding to the Canadian and Korean markets. The product is available world-wide on Amazon, too.
One "Thing" costs just $9.95, but they're frequently sold in two or three packs. With several hundred thousand units sold, she likely needs a Shark's help with the logistics of a rapidly growing company. Will a Shark take a bite out of this thing?
Company Information
Video

Posts about Bug Bite Thing on Shark Tank Blog
The BugBite Thing – Itch Prevention
Bug Bite Thing Shark Tank Recap
Ellen and Kelley enter seeking $150,000 for ten percent of their business. They tell their story and explain their private label arrangement. They hand out samples and demonstrate the product. About midway through 2019, they've sold $800,000 worth with projections for $2 million by the end of 2019. 
The Sharks love the 80% margins and a Shark fight ensues. Rohan and Kevin team up as do Mark and Barbara. They make offers but Lori swoops in and offers $150,000 for 10% – just what they asked for. They do the deal with Lori.
Bug Bite Thing Shark Tank Update
The Shark Tank Blog constantly provides updates and follow-ups about entrepreneurs who have appeared on the Shark Tank TV show. This deal did close and the product is listed on Lori's website. You can find them at CVS stores and on Amazon.
The company gets an update segment in episode 1224 where they'll document "drastic" growth despite the global Covid-19 pandemic.