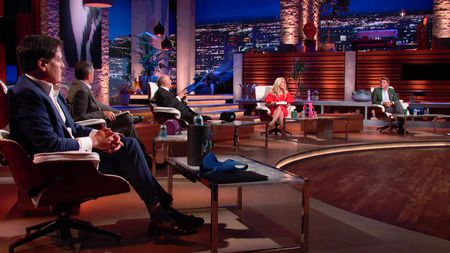 Guest Shark Daniel Lubetsky joins Mark, Kevin, Lori and Robert in Shark Tank episode 1224. Together they'll evaluate four new businesses seeking their cash and business guidance.
Keidy and Gene Palusky hope to light up the Tank with XTorch, their rugged, solar powered flashlight, lantern and phone charger. Cassandra and India Ayala want a Shark to take a bite of The Bumbling Bee, their vegan junk food and burger bar. Tyler Kessler, Jeff Dakin and Matt Hosey hope to clean up with The Scrubbie, a scrubbing sponge that attaches to kitchen faucets, sprayers and garden hoses. Kaylin Marcotte hopes to piece a deal together for Jiggy, her high end jigsaw puzzles that feature artwork from emerging female artists. Which business(es) land a Shark tonight?
In season 11, Lori invested $150,000 in Ellen McAlister and Kelley Higney's Bug Bite Thing. The product sucks the poison out of bug bites for near instantaneous relief. Lori helped get it into CVS stores and in tonight's update segment, we'll see how she helped them manage massive growth during the Covid-19 pandemic.
There are 22  Shark Tank Episodes for Season 12. This season features more appearances by "guest Sharks," including two returning guest Sharks: Alex Rodriguez and Daniel Lubetzky. In addition, two new guest Sharks will appear throughout season 12: Blake Mycoskie, founder of TOMS Shoes and MadeFor and Kendra Scott, founder of Kendra Scott, LLC, a fashion company she started in her spare bedroom in 2002 with $500. Casting is currently closed, but it never hurts to get a head start on season thirteen! If you would like to appear on the show, check out our Auditions and Casting information.
Episode 1224 – The Shark Investors and Entrepreneurs
The Shark Tank Episode 1224 entrepreneurs will make their best pitch to the panel of five Shark investors who will use their own money if they choose to invest. The Shark Investors negotiate on the spot without any previous information, which differs from typical negotiations between venture capital investors and entrepreneurial start-ups.
Companies pitching the Shark Investors must go through a rigorous due diligence process before an on-air deal is completed. Shark Tank Blog follow ups help you keep track of the companies that end up successful and the ones that don't complete their deal.
Thank you for reading SharkTankBlog, the number one site for Entrepreneurs, Investors and Fans. Our content updates multiple times day, giving you the latest information on Episode 1224, Season 12, and all other seasons and episodes.
Episode 1224 Press Release
Shark Tank: Episode 1224 (4/23)
"Episode 1224" – An entrepreneur from New York City shows she has all the right pieces for a good business with her new way to experience art. A trio of entrepreneurs from Moore, Oklahoma, put a little elbow grease into their presentation when they introduce their innovative cleaning tool to the Sharks. A mother and daughter duo from Virginia Beach, Virginia, proves vegan food doesn't have to be boring or non-indulgent, while a husband and wife duo from Edina, Minnesota, light up the room with their portable, rechargeable solar-powered device on "Shark Tank," FRIDAY, APRIL 23 (8:00-9:01 p.m. EDT), on ABC. (TV-PG) Episodes can also be viewed on demand and on Hulu.
In a "Shark Tank" update, season 11 mother and daughter entrepreneurs Ellen McAlister and Kelley Higney update us on how their insect sting treatment company, Bug Bite Thing, has grown drastically since appearing on "Shark Tank," despite the many challenges presented by the global pandemic, with some help from their investor, Lori Greiner.
The Sharks in this episode are Mark Cuban, Kevin O'Leary, Lori Greiner, Robert Herjavec and guest Shark Daniel Lubetzky.