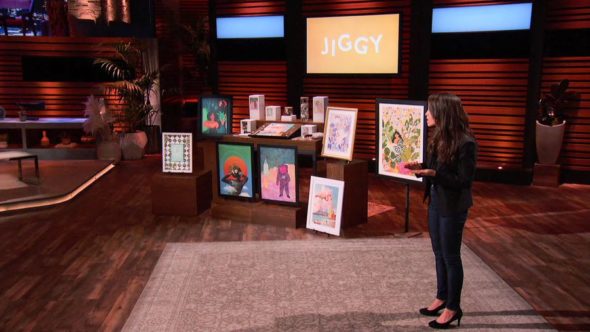 Kaylin Marcotte hopes to piece a deal together for Jiggy, her high end jigsaw puzzle company, in Shark Tank episode 1224. She began her love affair with jigsaw puzzles while helping start up The Skimm, an online news outlet. Working at startups can be stressful and Kaylin used jigsaw puzzles as a way to unwind before bed each night. In November, 2019, she left The Skimm and started Jiggy.
Kaylin wanted to empower women, so she contacted New York City area female artists to create designs for her puzzles. She's also into protecting the environment, so she has carbon neutral packaging and shipping materials and the puzzles are shipped in reusable glass jars. After the 2019 Christmas season, sales – predictably – slowed. In March, when the Covid-19 induced lockdowns started, sales skyrocketed 550%. She sold out by April and had to quickly re-stock, but she knew she would sell out again in two months.
She pivoted and started offering Jiggy Originals – original artwork painted onto a blank jigsaw puzzle. These sold at auction for up to $4,000! The regular puzzles – now in stock on her website and Amazon – cost $40 each. They're 450 piece puzzles and each one comes with glue so you can actually frame your puzzle art. Kaylin has proven the concept for Jiggy, now she wants a Shark to invest and take a piece of her business.
Company Information
Posts about Jiggy on Shark Tank Blog
Jiggy Jigsaw Puzzles – Puzzle Art
Jiggy Shark Tank Recap
Kaylin enters the Shark Tank seeking $500,000 for 5% of her business. She explains her business and the social mission. Sales since 2019 (the episode was taped in July 2020) are $2.25 million and she has zero debt. She needs a Shark's help managing the rapid growth of her business. The Sharks' sentiment is she has rapid growth because of the Covid-19 pandemic. The concern is are those sales sustainable.
Robert and Daniel drop out, but Kevin makes an offer. His offer is $100,000 for 15% plus a $400,000 loan at 10% interest. Kaylin sets her sights on Mark who seems interested. She asks what percentage he'd be comfortable with and he says 15%. Daniel says to take Mark's money and put it in her pocket because the business doesn't need cash. Kaylin clearly doesn't want to give up 15%. Kaylin asks if Mark will match $50,000 in charitable donations if they do the deal and Mark says yes.
Jiggy Shark Tank Update
The Shark Tank Blog constantly provides updates and follow-ups about entrepreneurs who have appeared on the Shark Tank TV show. The deal with Mark never closed. Kaylin didn't want to give up the equity. She introduced custom, branded puzzles for businesses as a give away. The thought is most people spend 4-8 seconds looking at an ad but they spend hours working on a jigsaw puzzle. This accounts fore longer brand engagement. Lifetime revenue for this company as of November, 2021 is $4 million. In early 2022, the puzzles were available at Bloomingdales, Nordstrom, Anthropologie, Macy's, and dozens of independent gift and novelty shops. She also added frames (for framing your completed puzzle) to the line. As of May, 2023, the company is doing $2.5 million in annual revenue