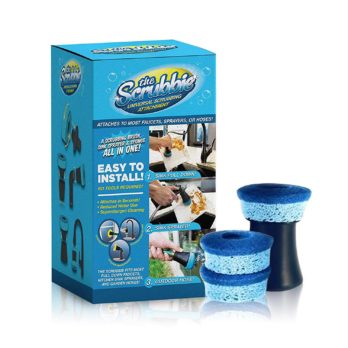 Tyler Kessler, Jeff Dakin and Matt Hosey pitch The Scrubbie, a scrubbing sponge attachment that attaches to a kitchen sink sprayer and garden hose. The three friends who call themselves the "side hustle homies" pitch their product in Shark Tank episode 1224. Dakin has the inventor's mindset and claims he's thought of many clever ideas over the years, but he was beaten to the patent office. He was scraping food with his kitchen sink sprayer and thought "what if I put a sponge on this?"
In order to get things going, Dakin reached out to his friend Hosey who then brought Kessler to the table. That's how The Scrubbie and the side hustle homies were born. The three men crafted a prototype and brought it to professional product engineers. It debuted at the 2019 Wichita Women's Fair, where the guys demonstrated the product at their booth. They went back to the fair in 2020 and learned they were accepted to Shark Tank the day after it ended.
The Scrubbie can attach to pull down faucets, in sink sprayers and garden hoses.  Whether you want to wash food off plates or clean up the patio furniture, it's sure to scrub everything clean. A nozzle with three scrubby sponges costs just $14.99. Three packs of replacement sponges are $4.99.  You can also get a year's subscription that sends you three new sponges every other month (18 per year) for $14.99. The homies likely want a Shark to help get them into retail chains and to help them enhance their online presence.
Company Information
Video

Posts about The Scrubbie on Shark Tank Blog
Scrubbie – 3 in 1 Sponge Scrubber Attachment
The Scrubbie Shark Tank Recap
The Homies enter the Shark Tank seeking $100,000 for 10% of their business. They give their pitch and demonstrate the product. During the demonstration, the camera keeps cutting to Lori, who looks very angry. After the demo, the Sharks examine their samples. They sell for $14.99 and they cost $3.60 to make; a 3 pack of replacement sponges is $9.99. Kevin has a hard time getting their sales figures. He finally tells them lifetime sales were $13,000 which does not impress the Sharks.
The pitch is falling apart at this point. Lori wants to know who designed their packaging. Mark tells them they should have sold more product by accident. The guys keep making excuses for their poor sales numbers but Mark isn't buying it. Robert brings up the similarity of their logo with the Scrub Daddy logo. Lori rips them about the similarity of the font and she doesn't like it, she's out. Daniel doesn't like the fact they took too long to figure it out; he's out. Robert thinks they aren't hungry enough; he's out. Mr. Wonderful says he won't give them $100,000; he's out too.
The Scrubbie Shark Tank Update
The Shark Tank Blog constantly provides updates and follow-ups about entrepreneurs who have appeared on the Shark Tank TV show. July, 2021 is just three months after this episode aired, so there isn't much new news on this company. There was a lot of fan speculation about potential trademark lawsuits, but nothing has come to fruition – yet. As of March, 2022, there are no lawsuits but they modified the logo slightly. As of May, 2023, all three men still have full time jobs. Also in May, the guys announced the Scrubbie 2.0 is available for pre-order. As of August, 2023, the 2.0 Scrubbie is still available on a pre-order basis. At this time, reliable revenue figures are unavailable.
I will update this page as more information becomes available.