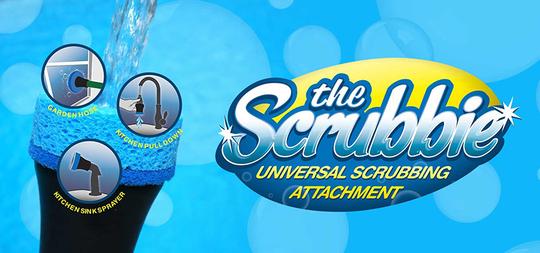 Scrubbie inventor Jeff Dakin and his partners Tyler Kessler and Matt Hosey call themselves "the Side Hustle Homies." Together, they spent almost six years bringing this product to market. Dakin, a contractor by trade, keeps a book of invention ideas. He claims he has over 100 ideas. Hosey says "he's got too many million dollar ideas not to have a million dollars."
Whether it's a million dollar idea or not, the three men are going all in with this invention. They did it very methodically, too. Over the past six years, they used professional product engineers and professional packaging designers. They introduced the product to the world at a local home show in 2019 and a year later, they got "accepted" to the 2020 Shark Tank bubble taping sessions in Las Vegas.
The Scrubbie is an attachment for a sink sprayer, faucet or garden hose. When attached the water flows through a scrubby sponge, making it easier to clean food off plates or grime off of exterior windows. Each one is 15 bucks for the attachment and three sponges. Replacement three packs are 5 bucks. Right now, they only sell off their website. They likely want a Shark to help them get into grocery stores and big box retail.
My Take on The Scrubbie
This looks like a clever little item. I wonder what other ideas Mr. Dakin has up his sleeve? I watched the video of how it works and it looks pretty effective. Anything that makes cleaning up easier is sure to be a hit. Imagine if he put a Scrub Daddy on the end of it.
I might actually pick one of these up – not so much for dishes, but for the outdoor applications. Between the pollen and frog poop I'm constantly washing off my patio furniture and pool deck, the Scrubbie looks like it would do the trick. I am in.
Will Sharks Scrub Up a Deal?
My first reaction was Lori will jump on this, but it could be a conflict with the aforementioned Scrub Daddy. If Lori likes the product, perhaps she could bring it to Scrub Daddy and merge the two products. I'm 50/50 on Lori bidding.
The other Sharks may want to hop on this. They've seen the success Scrub Daddy had and they might think this is something that could compete with it. There is one thing that makes me think they don't get a deal: they aren't on Amazon. Something like this  should be and any Shark would set that up. I am unsure on this one – we'll see how it goes.