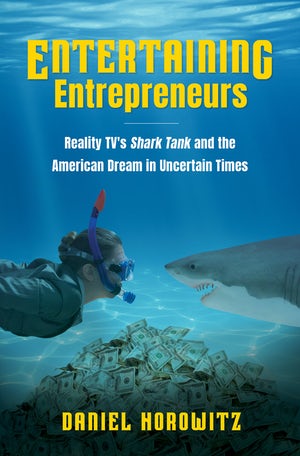 I get a lot of emails from readers, but this reader authored a book called Entertaining Entrepreneurs. His name is Daniel Horowitz, a Mary Huggins Gamble Professor Emeritus of American Studies and History at Smith College.  He's a historian and the author of numerous books that analyze American culture, including, most recently, Happier?: The History of a Cultural Movement That Aspired to Transform America.
For more information about Daniel Horowitz, visit his Author Page.
First of all, I am flattered such an intellectually accomplished writer reads my little blog. You  just never know sometimes! It's cool he works at Smith College, too. A friend of my wife is a professor there. As a UMASS, Amherst graduate, Smith brings back memories of what we called "the happy valley."
Entertaining Entrepreneurs Synopsis
Here's a synopsis of the book from his publisher, The University of North Carolina Press:
The Great Recession threatened the well-being of tens of millions of Americans. It dramatically weakened the working class, hollowed out the middle class, and strengthened the position of the very wealthy. Against this backdrop, the hit reality show Shark Tank premiered in 2009. Featuring ambitious entrepreneurs chasing support from celebrity investors, the show offered a version of the American Dream that still seemed possible to many, where a bright idea and a well-honed pitch could lift a bootstrap business to new heights of success. More than a decade later, Shark Tank still airs regularly on multiple networks, and its formula has sparked imitators everywhere, from elite universities to elementary school classrooms.

In Entertaining Entrepreneurs, Daniel Horowitz shows how Shark Tank's version of entrepreneurship disguises and distorts the opportunities and traps of capitalism. Digging into today's cult of the entrepreneur, Horowitz charts its rise from the rubble of economic crisis and its spread as a mainstay of American culture, and he explores its flawed view of what it really takes to succeed in business.

Horowitz offers more than a look at one television phenomenon. He is the perfect guide to the portrayal of entrepreneurship in business school courses, pitch competitions, popular how-to books, and scholarly works, as well as the views of real-world venture capitalists.
Comments from the  Author
Like many of you, I follow Rob Merlino's Shark Tank Blog and watch Shark Tank as often as I can. Yet I do so less as an aspiring entrepreneur and more as a historian. So I wrote Entertaining Entrepreneurs: Reality TV's Shark Tank and the American Dream in Uncertain Times, published by Univerdity of North Carolina Press in October 2020 and available through Amazon or your local bookstore. I focus on the six principal sharks and on Mark Burnett; on pitchers and pitches—ones that succeed and fail or fall in between.

But I also use Shark Tank as a window into the larger worlds of American entrepreneurship —TED talks and popular books; the culture of venture capitalism; spoofs and knock offs, from 3rd grade to Harvard Business School; key supporting locales such as Babson College, the Kauffman Foundation, incubators and accelerators. I do not have the skills of your favorite pitchers seen on Shark Tank, but my book should interest you!  ~Dan Horowitz
I read the book and it was very detailed. He gives us a glimpse into the lives of the Sharks and producer Mark Burnett (a Shark himself) that most "mainstream media" sources don't give  you. He also delves into both the societal and historical aspects of some of the more well-known pitches and entrepreneurs. If you want a deep dive into the world behind the scenes of Shark Tank, this is a GREAT read!
Click HERE to check it out.