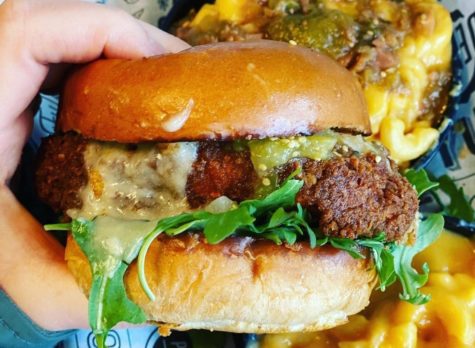 Cassandra and India Ayala started The Bumbling Bee Vegan Junk Food and Burger Bar as a food truck in Virginia Beach. Cassandra was a realtor for many years and when the real estate bubble burst, she pivoted. While pivoting, she brought her three daughters, India, Olivia and Lexie, into the business with her. Since Olivia and Lexie were vegan, they decided to go with a vegan menu. Apparently, they were on to something.
The ladies like to say they sell weeds. What they do sell is outrageous vegan burgers, vegan chili dogs and a lot more. Their most popular sandwich is the "Mother Clucker," a faux fried chicken sandwich made with soy, wheat and pea based proteins. They're also known for their over the top, ridiculously rich milkshakes that cost 9 bucks each.
They opened their first truck in 2011. In the fall of 2019, they opened a brick and mortar store in Virginia Beach. In January, 2020, the ladies opened a brick and mortar restaurant in Boulder with an accompanying food truck. While the Covid-19 pandemic affected their business, they were able to pivot and ramp up their take out businesses. In both cities, the local foodies are raving about their fare. They've doubled their business in two years, now they want a Shark to help them blow it up.
My Take on The Bumbling Bee Vegan Junk Food and Burger Bar
My wife and I dine out4 times a week. We live in a city  with well over 200 dining options, so there's a lot to choose from. One place in our "rotation" is a place called Cafe Evergreen. They aren't exclusively vegan, but they have the country's best Vegetarian Sandwich in the USA according to Restaurant Hospitality. When we dine there, I get this sandwich. It's very good!
If I had The Bumbling Bee Vegan Junk Food and Burger Bar in my city, I'd try it out. I'm a carnivore, but I'll eat veggy and vegan on occasion. These types of eateries are becoming more common. Our city has many veggy and vegan exclusive restaurants and most places offer those kinds of dishes.
Do Sharks Go Vegan?
Every once in a while, an entrepreneur or Shark gives something away before a show airs. Despite signing non disclosure agreements, this appeared on the company's Facebook Page:
Barbara Corcoran 🤔
Always considered the underdog shark but underneath is a powerful brilliant women!
She is a killer match for the Bumbling Bee Vegan Junk Food: Boulder, CO & The Bumbling Bee Vegan Junk Food: VA Bch, VA
Barbara is already rolling in the food truck world with her investment of the amazing Cousins Maine Lobster trucks & franchises in her portfolio! 🦞
Dixie & Daisy – The Bumbling Bees food trucks – are right up her ally!
She is also a maven of incubation for expansion of quick serve restaurants – this is definitely in her wheel house!!
Have I given to much away!
You will have to Tune in 4/23 to ABC's Shark Tank and find out if Barbara, or any Sharks, decided to dive into weed dealing with the Bee!
So does this mean Barbara invests? It IS in her wheel house. Unfortunately, Barbara does not appear in this episode. Mark has a history of investing in fast casual eateries. He teamed up with Barbara for Tom and Chee and he went solo on Fat Shack, which also has a location in Boulder. While Mark may invest, Lori is also vegan and may have an interest. Perhaps Lori or Mark team up with Daniel or Mr. Wonderful. The only Shark I see not showing interest is Robert.