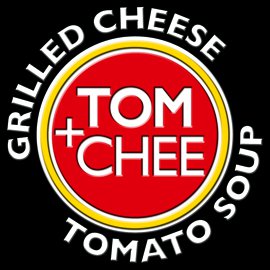 Tom and Chee founders Trew Quackenbush and Corey Ward pitch their Cincinnati area gourmet grilled cheese shops to the Sharks in episode 424. Quackenbush is a self-taught cook who "cooked around" all over the USA learning his craft before settling in Cincinnati. Ward is the son of ice cream shop owners who grew up behind the grill and wanted a business of his own. The two "cheftrepreneurs" decided to create a casual dining concept around the old lunch standard of tomato soup and grilled cheese. They currently have 5 locations that feature their creations, the most outrageous being a grilled cheese donut. They'll be looking to the Sharks to fund expansion of their burgeoning grilled cheese empire.
Tom and Chee Shark Tank Recap
Trew and Corey came into the Shark Tank seeking $600k for a 10% share of Tom and Chee. They tell their story and offer their grilled cheese donut to the Sharks who gobble them up. They reveal they did $1.5 million in sales out of their corporate store in one year and their first franchisee did over $100K in one month. The Sharks like those numbers.
Barbara immediately offers $300K for 15% of the business provided another Shark puts up the other $300K. Daymond doesn't want to be in the grilled cheese business, so he's out. Kevin and Robert each agree to throw in $100K with Barbara if Mark does the other $100K. Mark's interested, but he agrees to partner with Barbara at $300K each, leaving Robert and Kevin out.
Mark says he also wants franchise rights to Texas and agrees to leave Dallas out of the deal since Trew and Cory already have an interested franchisee there. Barbara wants the franchise rights to New York. Trew and Cory take the deal with Mark and Barbara.
Tom and Chee Shark Tank Update
Since doing the deal with Mark and Barbara, Tom and Chee is doing big business. Since their original air date, they've received over 9,000 requests for franchises and they're opening new stores all over the country. Tom and Chee has an update segment airing on January 17 in episode 514.
In the summer of 2014, Tom and Chee laid off 6 employees at their corporate headquarters in Cincinnati. The reason for layoffs of members of their marketing, catering and training teams was to position the company for future growth. A few days after the layoffs, the company announced it will open 13 new franchises in Ohio, Michigan, Indiana, Tennessee, Missouri, Kansas, North Carolina, Louisiana, Georgia and Nebraska. The plan for 2015 includes 30 new stores. The company claims to have 170 stores under contract.
Tom and Chee has a second update segment in episode 616 in season six, where they'll likely announce their new locations to Shark Tank Nation. In this update, they reveal they've grossed over $14 million since appearing on Shark Tank. They explain Barbara has been instrumental in finding real estate. They have 19 locations now, but they're going world-wide. Tom and Chee will surely have another update segment!
Yet another update occurs in episode 815!
Posts about Tom and Chee on Shark Tank Blog
Tom and Chee Information