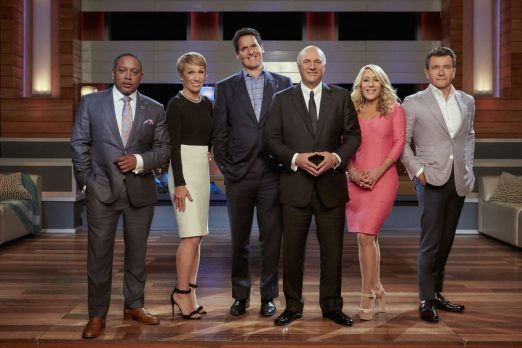 Four new businesses enter the Shark Tank in episode 814 seeking funds to start, grow, or save their business. Chris Crawford and Eric Fagan hope the Sharks shower money on them when they pitch RinseKit, their line of portable showers for outdoor enthusiasts. Stan Efferding, the "world's strongest bodybuilder," pitches The Kooler, his cooler within a cooler, aimed at the fitness crowd. Elizabeth Granados gets off the mat to present Little Nomad, elegantly designed foam play mats that look like real rugs. Richard Elden seeks a Shark for a strategic partner in dBest Products, his 15-year-old collapsible cart business.
Which businesses do the Sharks invest in tonight?
Back in season four, Barbara and Mark invested $300K each for 15% of Tom and Chee, a grilled cheese restaurant concept. Since then, the company grew to 30 locations. In an earlier update segment, they announced they had 170 new stores under contract. In this update, we'll see where they are now.
There are 28 Shark Tank Episodes for Season 8. This season features more appearances by Chris Sacca and a host of other surprises. Casting is currently closed, but it never hurts to get a head start on season nine! If you would like to appear on the show, check out our Auditions and Casting information.
Episode 814 – The Shark Investors and Entrepreneurs
The Shark Tank Episode 814 entrepreneurs will make their best pitch to the panel of five Shark investors who will use their own money if they choose to invest. The Shark Investors negotiate on the spot without any previous information, which differs from typical negotiations between venture capital investors and entrepreneurial start-ups.
Companies pitching the Shark Investors must go through a rigorous due diligence process before an on-air deal is completed. Shark Tank Blog follow ups help you keep track of the companies that end up successful and the ones that don't complete their deal.
Thank you for reading SharkTankBlog, the number one site for Entrepreneurs, Investors and Fans. Our content updates multiple times day, giving you the latest information on Episode 814, Season 8, and all other seasons and episodes.
Episode 814 Press Release
Episode 814 (2/3)
A WORLD RECORD POWER LIFTER AND MR. OLYMPIA TITLE HOLDER MAKES A BIG IMPRESSION WITH THE SHARKS BY LIFTING AN 800-POUND TIRE AND SHOWING THEM HIS UNIQUE WORK-OUT AID ON ABC'S 'SHARK TANK'
"Episode 814" – A professional body builder from Henderson, Nevada, demonstrates his incredible strength as well as a unique cooler that keeps multiple drinks separated inside one cold container; a mom from West Hartford, Connecticut, changes Kevin O'Leary's nickname to "Uncle Wonderful" and asks him to hold her toddler while she pitches her stylish version of baby mats; a Shark turns into a "bottom feeding catfish" to two surfers from Carlsbad, California, while considering their portable pressurized shower kit; and an entrepreneur from Hermosa Beach, California, needs a smart Shark to invest their smart money into his specialty folding smart-cart business. Also, a follow-up with Corey Ward and Trew Quackenbush and their Tom & Chee grilled cheese sandwich business, which Barbara Corcoran and Mark Cuban invested in during season four, on "Shark Tank," airing FRIDAY, FEBRUARY 3 (9:00-10:01 p.m. EST), on the ABC Television Network.
The Sharks in this episode are Mark Cuban, Daymond John, Kevin O'Leary, Lori Greiner and Robert Herjavec.