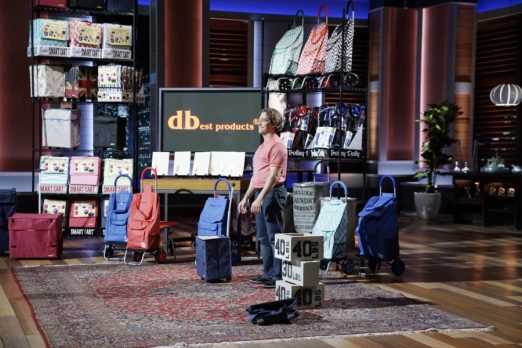 Richard Elden hopes to wheel away some cash when he shows the Sharks dBest Products, his wildly successful line of carts, in Shark Tank episode 814. Name just about anything and Elden makes a cart to make toting it around easier. He's been an innovator in the collapsible cart business for 15 years and produces dozens of different carts – even coolers on wheels.
Elden sold his products on QVC in the past and has distribution in over 30 foreign countries. He's constantly innovating, making new carts to match customer needs. Most of dBest Products come in at under $50, so he's affordable as well as useful.
I can't imagine what Elden wants from a Shark other than a celebrity, strategic partner to help grow the brand bigger. Based on the pictures of his warehouse, he has plenty of inventory and his 15 year track record indicates the business is strong.
Will a Shark want to tote away a piece of this business?
dBest Products Shark Tank Recap
Richard enters seeking $350,000 for 5% of his business. He shows his carts and demonstrates the Smart Cart by toting a 110 pound concrete block. Richard has tons of orders, but never has enough cash to fill them. Kevin immediately questions the valuation and Richard tells him he has $5 million in sales this year with $7-$8 million projected for next year.
The Sharks want to know why he's in the Shark Tank as he has enough money. Richard explains he doesn't want to finance inventory for his orders, so he wants partners. He further explains he has a $3 million order from QVC that isn't part of the deal. dBest Products' carts have been on QVC for 15 years.
Daymond jumps in with an offer of $350,000 for 15% and he'll take it to Amazon for warehousing and fulfillment. Kevin offers a $350,000 line of credit at 18% interest for 5% of the business. Mark tell Richard that offer doesn't solve his problem.
Lori says Richard is "in her world" and offers $350,000 for 15%. Mark likes the business, but he wants Lori's help. He packages an offer he and Lori would team up on of $350,000 for 20% plus a $2 million line of credit. Richard doesn't want to give up that much equity and asks for $700,000 for 10% and Daymond goes out. After a lot of back and forth, Richard takes Mark and Lori's offer.
dBest Products Shark Tank Update
The Shark Tank Blog constantly provides updates and follow-ups about entrepreneurs who have appeared on the Shark Tank TV show. It doesn't appear this deal closed. dBest Products isn't listed on Mark or Lori's website, which indicates they didn't get out of due diligence. Apparently 20% was too much for Richard after all.
That said, he's still in business and doing well. You can find dBest carts in Bed Bath and Beyond, Staples, Target, Walmart, PetCo and Amazon.
As of July, 2022, the company is still in business and doing an estimated $8-$10 million in annual revenue.
Posts About dBest Products on Shark Tank Blog
D Best Products – Collapsible Carts
dBest Products Company Information
Video