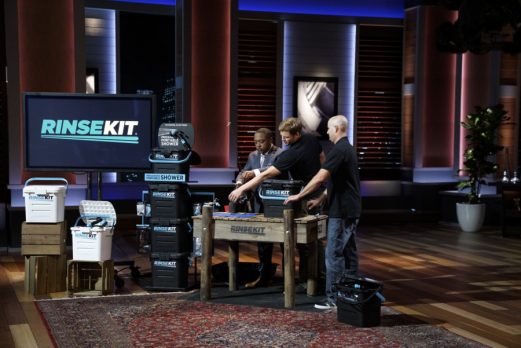 Chris Crawford and Eric Fagan hope to clean up and get an investment for RinseKit, their portable shower, in Shark Tank episode 814. Crawford created the first RinseKit in his garage. He wanted something to wash the sand off his body after surfing in the morning before going to work as a swimming pool contractor. He used his knowledge of water systems to make a portable shower for himself and soon people were asking him where he got it, so he "opened the garage" and started selling.
In the Spring of 2016, things really took off for RinseKit. They raised over $800,000 in Kickstarter and IndieGoGo campaigns! Now, the product sells on Amazon and at major outdoor retailers like REI. The product itself looks like a mid-sized cooler with a sprinkler hose attached to it. Simply fill it up with water from your house and it stores the pressure to propel the water out later, when you need it.
They come in white or black and cost $89. The model with the hot water bundle costs $99. Each RinseKit holds 2 gallons of water and they come with hose or sink adapters. There's also a field fill kit that allows you to pressurize the rinse kit with a bike pump-like device when there's no readily available tap water. It's a great product for campers, boaters, fishermen, or anyone who gets a bit dirty outdoors and needs to clean up on the go.
They likely need cash for inventory to get more presence in mass retail stores. Will a Shark clean up with this business?
RinseKit Shark Tank Recap
Chris and Eric enter seeking $250,000 for 5% of their business. As Chris describes the portable shower, he sprays his hand with it. Robert wants to know the top reason people buy a Rinse Kit. Chris says he invented it to clean up after surfing so he wouldn't get his car messed up, but he's discovered many more uses. People with kids seem to like it. His background in the pool business taught him about hydraulics and plumbing, which helped him design the product. He sold his pool business to get the business going and took on a former pool client as an investor for $75,000 for a 10% share.
Chris answers a question from Daymond and reveals he's $550,000 in debt. The Sharks gasp. The good news is he's done $800,000 in sales with $2.1-$2.3 million projected for this year. Those sales will net them a $100,000 profit. Mark wants to know why the profit is so small and Chris tells him it's because they are dumping a lot of money into marketing.
Kevin thinks they are over valued because they are basing the valuation on projections, but he thinks it's a great product. Mark interjects and says he like more tech businesses and he goes out. Kevin, however is interested and offers $2250,000 for 5%. Chris expects to go to $20 million in a few years; Lori wants to know how. Chris tells her they are creating an "ecosystem" they can add new products to.
Robert chimes in. He likes it, but doesn't like the risk, yet he offers $250,000 for 20%. Kevin adjusts his offer to $250,000 as a loan for 5% equity. Lori jumps in and offers $250,000 as a loan for 5% PLUS royalties. Next Daymond jumps in with an offer of $250,000 for 7.5% plus sales commissions on companies that he brings on to sell the product. Chris accepts that deal and they shake hands.
RinseKit Shark Tank Update
The Shark Tank Blog constantly provides updates and follow-ups about entrepreneurs who have appeared on the Shark Tank TV show. Rinse Kits are in over 600 retailers nationwide, including REI. They also added different models and a heated shower that plugs into a car cigarette lighter. The prices are the same whether you get them at a retailer or on Amazon. RinseKit is making its way to that $20 million in sales mark! As of June, 2022, the company has yearly revenue of $1.8 million.
Posts About RinseKit on Shark Tank Blog
RinseKit Company Information
Video