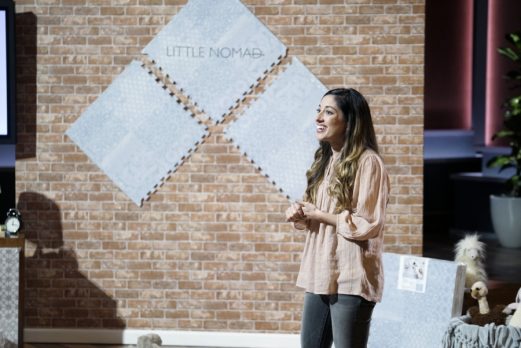 Elizabeth Granados hopes the Sharks get off the mat and invest in Little Nomad, her decorative foam mat business, in Shark Tank episode 814. Granados liked the functionality of foam mats for kid's play or exercise, but she didn't like the look of most mats. She set out to create interconnecting foam mats that looked elegant and chic in her home.
Foam mats are great play surfaces for toddlers on hard surface floors, but most of them come in bold, loud colors. Little Nomad mats look like "real" rugs, so they can stay out when baby goes to bed. They also double as exercise mats for mom and dad.
The company completed a successful Kickstarter campaign in June, 2016 and delivered her products in November of the same year. She's been selling them ever since! Elizabeth likely wants a Shark's help getting into mass retailers. Will a Shark want to invest?
Little Nomad Shark Tank Recap
Elizabeth enters seeking $80,000 for 15% of the business. She enters with her husband and toddler, Talia. They have a bright foam mat on the floor as they explain why these are practical for kids. She hands Talia off to Kevin and peels off the bright foam mat to reveal her stylish Little Nomad mat. She then sends Talia off with her hubby for "nap time" and hands out sample tiles to the Sharks.
She tells the Sharks she's pre-sold $114,000 worth of mats through her Kickstarter in just three and a half months in business. So far, she hasn't shipped anything. She explains how the Kickstarter went viral in online "mom groups." In the future, she wants to see the product in retail stores that sell baby products. Each unit costs her $16.39 and she sells them for $139. Mark says with those margins, she should sell direct online.
The Sharks get into discussion about the differences between Little Nomad and the competition. They also have concerns with the price point versus the "standard" mats. Robert and Kevin don't like the idea of retail as the product takes up too much space. Elizabeth thinks she needs retail to get into baby gift registries.
Daymond thinks people won't pay the high price, so he goes out. Mark says she's driven, but she doesn't need a partner, he's out too. Kevin calls it an expensive foam mat and he goes out too. Robert says she's too early and goes out. That leaves Lori. She likes the product and Elizabeth, but her "gut" tells her to go out.
RESULT: NO DEAL
Little Nomad Shark Tank Update
The Shark Tank Blog constantly provides updates and follow-ups about entrepreneurs who have appeared on the Shark Tank TV show. Little Nomad sold all its inventory after the show aired and has been hustling to keep up with demand since. Moms across the country like the style of the product and it continues to sell well on Amazon.
In June, 2019, Elizabeth raised  $267,622 on Kickstarter to launch her NamaMat for the kitchen. In October, 2019, Elizabeth rebranded the business to The House of NOA to focus "on beautiful, practical products to fit real life." 2020 saw the introduction of three new products: a portable high chair mat, and exercise mat and table/place mats. Also in 2020, Summit Partners invested an undisclosed amount in the company. In 2021, she introduced washable rugs. As of January, 2023, the company is still in business and doing well with $5 million in annual revenue.
Posts About Little Nomad on Shark Tank Blog
Little Nomad Company Information
Video