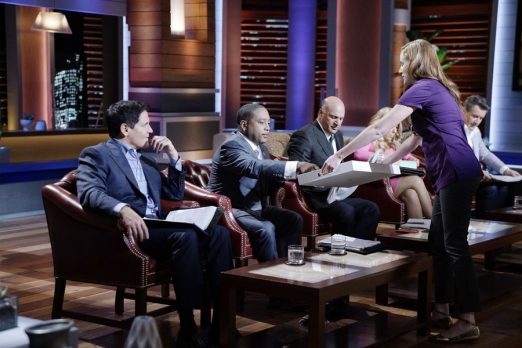 Elizabeth Granados hopes Little Nomad Mats draw the attention of, and an investment from, the Sharks in episode 814. Little Nomad Mats are just like those colored, foam play mats you see in homes and daycare centers everywhere, except hers are "works of art." Most foam play mats come in loud, bright colors and don't look "good" in a stylish household. Granados' mats are designed as a "soft flooring solution," as opposed to "just a play mat."
The Kickstarter crowd liked her vision, contributing just over $104,000 back in 2016 to bring the vision to life. Little Nomad Mats look like "real" carpets, yet they provide the soft, safe surface for crawlers and toddlers. Since the mats come in interconnecting, two square foot pieces, you can create any size surface you want. They're also very easy to clean.
At $109 for a 4-foot by six-foot mat, they're pricier than the garish foam mats most folks are used to. That's the price you pay for style! She has one pattern available now, but more are forthcoming. She likely needs a Shark's help getting into big box outlets.
My Take on Little Nomad Mats
Our family is well past the foam play mat stage, but we had them when the kids were younger. When we were packing to move a couple of years ago, I unearthed a box with a couple of foam mats in the basement. One set had Barney, the purple dinosaur on it. We donated them to the Salvation Army.
If I were in the market for such a product today, I'd give Little Nomad a look, but the price might scare me off. Similarly constructed models sell for as little as $15 online, but they don't have the artistic style. That said, I can see some moms wanting to splurge on something that looks nice in their home. As they say: "happy wife (mom), happy life."
Will Sharks go to the Mat?
One objection the Sharks will raise is the same one I expressed: the cost. A $109 price tag scares people off. There will be discussion about lowering the cost, both at the wholesale and retail level. The other issue is "knockoffability." Foam mats are not proprietary. Grenados' designs probably are protected, but there could easily be many stylish knock-offs.
Grabbing that "style market share" is the challenge, before imitators flood the market. A Shark will need a good chunk of the business to get involved, but it could happen. With a lower price-point, Little Nomad Mats could be a big seller. It's all a matter of margins and cost.