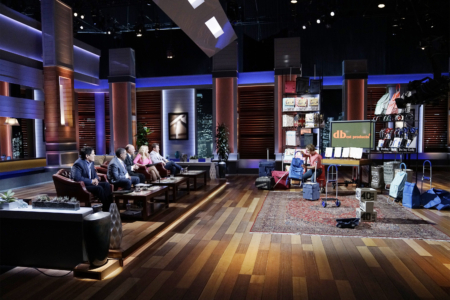 Richard Elden, the "king of carts," wants to wheel away a cart full of cash from a Shark when he pitches D Best Products in episode 814. He's the king of carts because he's been making and selling them for nearly 15 years. D Best Products makes carts for luggage, groceries, coolers, and even pets. The Smart Cart and the Trolley Dolly Cart are the flagship products of his line.
A Smart Cart is a handy alternative to lugging around a heavy backpack. It weighs less than three pounds and holds up to 110 pounds. You can use the Smart Cart for just about anything from groceries to sensitive files and papers. It's waterproof, has smooth rolling wheels, folds to just two inches, and costs thirty bucks.
The Trolley Dolly has a larger carrying bag and beefier wheels than the Smart Cart. They have seven pockets and models with coolers and built-in seats. It also holds 110 pounds. You can remove the bag to use it to haul bulkier items. A Trolley Dolly will set you back forty bucks.
Elden is no stranger to TV. He's appeared on QVC several times and is quite the pitchman. He's been in the cart business long enough to be considered a market leader and sells his products in over 30 countries. He probably wants a Shark to help him introduce new products and expand distribution.
My Take on D Best Products
I own a heavy-duty two-wheeler for moving furniture and other large objects. My luggage has wheels. The only other cart I own is a wire grocery cart that I use for wheeling my fishing gear to the pier or beach. I would like to get a cart I can tow behind my bike that will "convert" to a pier/beach cart.
D Best Products look good. They're sturdy, compact, and convenient. I wish he had a cart for me, but none of the offerings look like they are towable. There's a guy at my local fishing pier who owns a Trolley Dolly – he modified his a bit with fishing rod holders. I can see myself buying a Trolley Dolly when my current cart breaks down. The multiple compartments look like they come in handy for fishing gear and it comes in a version with a built-in cooler for bait and fish. For that reason, I'm in.
Will Sharks Provide Carts of Cash?
Whenever a successful, long running business comes into the Tank, I have to wonder why. The Sharks will wonder, too. If the business is so successful, why does he need a Shark? Unless there is some horror story and the business is on the brink of collapse, I think it's suspect.
That said, other long-running businesses appeared – and got deals – on Shark Tank. Robert did a deal with Happy Feet a few years ago and the company went to another level. The same with Lori's investment in Biaggi. Successful business people recognize what a Shark can do for sales and want that boost.
With his record on QVC, Elden could attract Lori's attention. D Best products might have a bit of synergy with Biaggi, too. If the numbers work, other Sharks could bite since the business has a track record and the expectation of return is more certain. As long as Elden doesn't come across as a "gold digger," he'll field an offer or two.