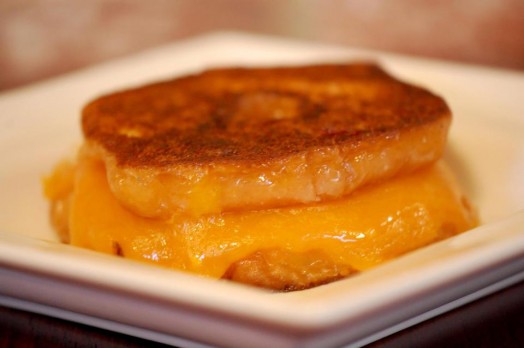 Grilled cheese and tomato soup have been an American lunch-time staple for as long as I can remember; they go together like – well, grilled cheese and tomato soup! Entrepreneurs and cooks Trew Quackenbush and Corey Ward took the familiar favorite and turned it into a business called, appropriately, Tom and Chee. They'll pitch their fledgling chain of grilled cheese shops in Shark Tank episode 424, the season 4 finale.
Tom and Chee claims to have the "world's most creative selections of grilled cheese, as well as homemade soups and fresh salads." For someone looking for a quick, wholesome, and comforting meal, grilled cheese fits the bill. It appears Tom and Chee have captured the hearts (and stomachs) of greater Cincinnati grilled cheese aficionados with their fare: they've grown from one location to five in just four years. My guess is they want to increase and accelerate their growth with a Shark investment.
I LOVE Grilled Cheese!
I do most of the cooking in our household, so grilled cheese is one of my favorites because it's one of the few things my lovely wife cooks; If I'm eating grilled cheese at home, that means I didn't have to cook! Boston is no stranger to the grilled cheese phenomena; there are two popular grilled cheese food trucks, one of which (Roxy's Gourmet Grilled Cheese) was on The Great Food Truck Race. There's also Cheese Boy franchise stand in one of our local malls. Hot Dogs are usually my lunch of choice, but I can change things up in a pinch.
Do Sharks Like Grilled Cheese?
The Sharks will undoubtedly get fed by Trew and Corey, so the first test will be whether they like the food or not. If they do, Tom and Chee will need good store by store sales numbers and growth forecasts. The restaurant business is fraught with failures – even places that serve quality food fail when thing don't go the right way – so the Sharks will demand good numbers if they're going to make an offer.
Earlier in season four, Mr. Wonderful invested in How Do You Roll, so there is a precedent for a Shark investment in a fast food concept. Whether Mr. Wonderful wants to add to that portfolio remains to be seen. Barbara is another Shark who's done well with restaurant related businesses. She partnered with Cousins Maine Lobster in episode 406 and she's involved with Pork Barrel BBQ, which also has a restaurant in its business mix.
It's going to come down to the numbers on this one. If they're attractive, and the Sharks believe in Trew and Corey, they could see an offer or two and possibly a deal. As for me, I'm "IN" with a Grippo's BBQ+Bacon grilled cheese and a bowl of tomato soup!